How to Choose Incontinence Underwear: Finding the Best Adult Diapers for You
March 6, 2022
By Nathan Sheffer
Over 44 million Americans are dealing with urinary incontinence every day. As a manufacturer of incontinence products, we understand how challenging it can be to find the right incontinence supplies, especially without support or advice. In fact, the National Association for Continence (NAFC) estimates that up to 80% of adults with incontinence are using the wrong product. We help wearers and caregivers every day find solutions that work for them.
If you or someone you care for are new to incontinence or struggling to find a urinary incontinence product to help you manage your needs, use this guide to help find the best product for your needs.
Table of Contents
Why Are Incontinence Products Needed?
When children or adults experience incontinence (involuntary bladder or bowel leakage), they have a few options to treat this condition. First, incontinence is a condition, and it is often a result of another medical condition or disease. For adults, incontinence can be the result of childbirth, an enlarged prostate, cancer or other diseases affecting the bladder, nerve damage, memory loss, a developmental disability, or other medical challenges.
The primary treatments for urinary incontinence are lifestyle changes, medication, surgery, medical devices, muscle training, and absorbent products. While absorbent products are more of a management solution than a treatment, they also offer the lowest risk of side effects. Millions of Americans use an incontinence product, including protective underwear or pull-ons and tab-style briefs every day to protect their skin and manage incontinence.
Top 5 Incontinence Underwear and Adult Diaper Considerations
When it comes to how to choose the best incontinence underwear or adult diaper, there are five primary considerations. Depending on your situation, lifestyle, and preference, these considerations will shift in level of importance for each individual or caregiver. For those on a budget, cost and absorbency are all that may really matter; for others, material and style may be more important.
#1 Absorbency
At Tranquility, we strongly recommend wearers and caregivers consider absorbency needs when choosing an absorbent underwear for urinary incontinence. Far too often we hear stories about soiled linens, long nights of accidents, laundry, leaks in public, and more. While there may be multiple reasons for poor product performance, often it is because of a low-absorbency product. We know it is not easy… the use of terms like "super," "maximum," and "ultra" can make it challenging. Plus, the use of raindrops to showcase absorbency level doesn't help.
When possible, look for definitively printed absorbency levels like the cups shown here. While you may not know your exact urine output, it allows you to understand the absorbency level of the incontinence product without having to guess.
Another statistic from the NAFC stated that people with incontinence try an average of seven different products before finding one that works for them. We believe this is primarily due to challenges with finding the correct absorbency.
#2 Style
There are two styles of disposable underwear, pull-on style and tape-tab style. Pull-on style – you guessed it – pull on like typical underwear. Tape-tab style products, also known as disposable briefs, utilize tape-tabs to adhere, similar to how baby diapers are applied. A few factors go into determining which style you or someone you care for may prefer.
Personal Preference
Many wearers of incontinence underwear already have a preference of product style. If you are new to incontinence products, many adults who have worn regular underwear prefer pull-on style disposable products. Since they are pulled on and off, pull-on style disposable incontinence underwear allows individuals who can still use the toilet the ability to continue doing so.
Alternatively, some individuals and caregivers prefer the tape-tab style brief. This style can be securely fastened multiple times and does not require stepping into the product as with pull-on style products. Tape-tab style products are widely used in nursing homes and care facilities for incontinence management
Level of Mobility
A persons' level of mobility can also help determine what type of adult diaper is best. For adults with limited mobility/mobility issues or who must remain in bed, tape-tab style adult diapers make it easier for caregivers to change the product.
For adults who are mobile and can still self-toilet, pull-on style is typically the preference. Since it requires stepping into the product like traditional underwear, pull-on style requires more mobility than tape-tab style.
Memory Loss
Memory loss is another consideration when choosing a product style. We have learned from feedback and conversations with caregivers that adults with dementia, Alzheimer's disease or similar medical conditions prefer pull-ons. Pull-on style is worn like traditional underwear and is therefore easier for adults with memory loss to wear. Plus, pull-on style disposable underwear can be easily pulled down if the individual would like to self-toilet, promoting independence, while providing protection against accidents.
One challenge with tape-tab style underwear for adults with memory loss is that they can feel the tabs and often attempt to loosen them, occasionally causing accidents. Therefore, if you are caring for someone with memory loss, start by trying a pull-on style incontinence underwear.
Interested in the distinction between Alzheimer's and dementia? Check out our blog Dementia vs Alzheimer's: What is the Difference?
#3 Material
Another important consideration is the material used for the outside layer (also called backsheet). The two primary materials are clothlike and poly-backed. Poly-backed protective underwear are made with a plastic backing, the same material used for most baby diapers. Alternatively, clothlike incontinence underwear are made with a clothlike material that is soft and rustle-free. Clothlike products can also be "breathable," meaning they allow air to circulate, which promotes skin health.
When it comes to selecting a material, it is mostly a matter of personable preference. Most products on the market today are clothlike, many of those being designed with breathable fabric. However, many poly-backed products remain, as some consumers continue to prefer the plastic-backed style due to the sense of security and extra protection it provides, knowing this waterproof backing will protect mattresses and other surfaces from fluid passing through.
This poly-backed protection is only available in tape-tab style products, whereas clothlike incontinence underwear is made in both pull-on and tape-tab styles.
Most incontinence underwear and adult diapers are latex-free. However, if you are allegoric to latex or prefer latex-free products, be sure to verify the incontinence products you use are latex-free.
#4 Size
Size is extremely important to product performance. It will be hard to determine the right product for you or someone you care for if the wrong size is purchased.
There is a misconception that larger sizes hold more urine. While this may appear true (many of our larger sizes have greater capacity), wearing the proper size is critical to performance. Too large of a size creates openings that cause leaks from the legs and waist. Many wearers and caregivers attribute urinary incontinence leaks and accidents to the brand/style/absorbency of the product, when the problem may actually be the size.
Be sure to closely follow the manufacturer's sizing guide to ensure a proper fit. Here are examples of a Tranquility sizing guide and a tip on how to measure the body to determine sizing.
A wearer's size, particularly those requiring Youth or Bariatric sizes, may dictate the product style and material that are available. However, manufacturers continue to innovate to offer more expanded size ranges to these groups.
#5 Cost
While cost may be a first consideration, we remind wearers and caregivers: "you get what you pay for." While lower-cost products may work well for some, we have received hundreds of testimonials from wearers and caregivers – typically those with heavy incontinence – explaining their challenges with these items. If cost is a major consideration for you, reach out to the manufacturer to see if you may qualify for Medicaid coverage or if they can provide other support or product recommendations. Combining highly absorbent booster pads with lower-cost incontinence underwear could meet the absorbency needs without significantly increasing cost.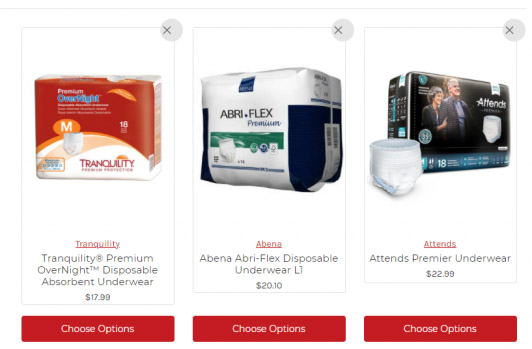 For those on a limited income or caring for a child with complex care needs, quality incontinence underwear and other products are available through Medicaid, waivers, and even adult diaper banks.
The Tranquility Product Finder
The Tranquility Product Finder was created to help incontinent individuals and/or their caregivers find the right Tranquility product for each individual need. The product finder uses similar considerations as above to narrow down possible products for you by asking a few questions.
Step 1: Gender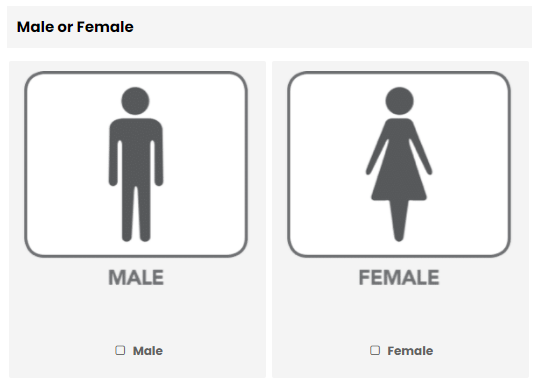 Start by selecting your gender. If you are a caregiver, answer all the questions on behalf of the person you care for (i.e., "what is your care recipient's gender?").
Step 2: What Product Style Do You Prefer?
Next, select the product style you prefer. The two most popular styles of incontinence underwear are Disposable Pull-on Underwear and Tab-Style Briefs.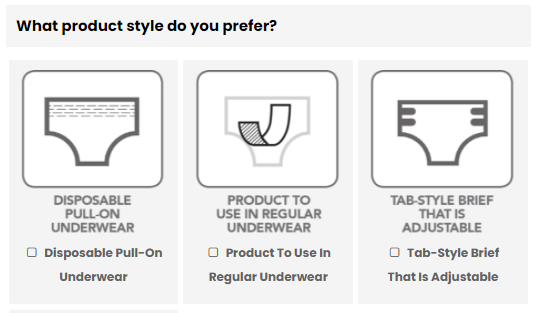 If you are unsure of what style you prefer, contact our Care Team for support. They will help and can send you sample packs to try! You can also take our online survey to receive a free sample.
Step 3: How Much Absorbency Do You Need?
Step 3 indicates the level of absorbency needed. Several absorbency options are displayed. If you are unsure of the level of absorbency you need, you can select "Don't Know" to see a broader range of product options.
For assistance, here are some examples of different absorbency levels.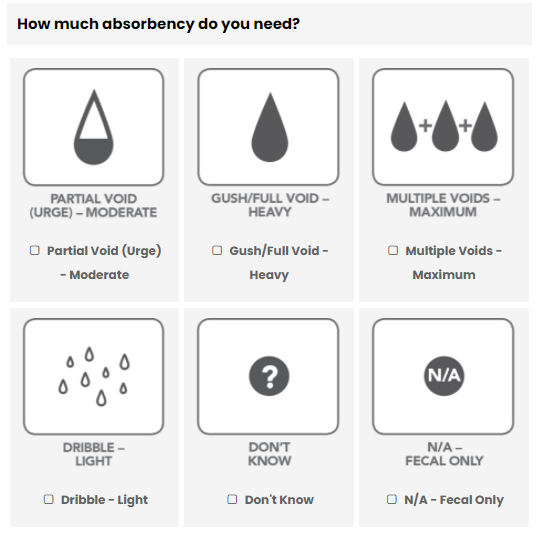 "Dribbles – Light": You experience light leakage of small amounts of urine when you laugh, cough, sneeze, exercise, dance, etc.
"Partial Void – Moderate": You experience moderate bladder leakage with occasionally larger amounts of urine and have a sudden need or rush to urinate.
"Gush/Full Void – Heavy": You regularly leak larger amounts of urine, such as full voids, and often experience a sudden need or rush to urinate.
"Multiple Voids – Maximum": You regularly leak larger amounts of urine, such as full voids, and multiple episodes occur in a short period of time.
"Don't Know": You are unsure of how much urine leaks and don't know what level of protection is needed.
"N/A – Fecal Only": You only experience bowel incontinence and do not need absorbency for urinary incontinence.
Step 4: What is your Size?
Next, the Product Finder asks for your waist/hip measurement in inches. The options range from X-Small (17-28 inches) up to 5X-Large (70-108 inches). Please see the How to Measure graphic. To assist you in ensuring a proper fit and no leaks, be sure to measure the widest part of your body. For some bodies, this will be at the hips; for others, it may be higher at the waist. It's also important to note that "Medium" in incontinence underwear may not be the same "medium" as traditional underwear.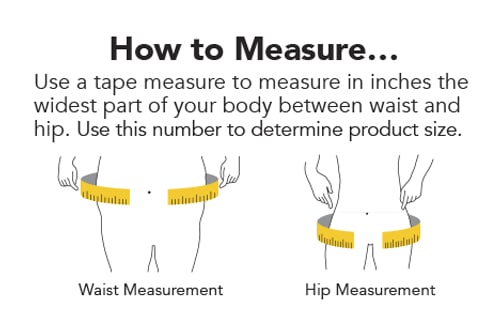 Step 5: Recommended Products for You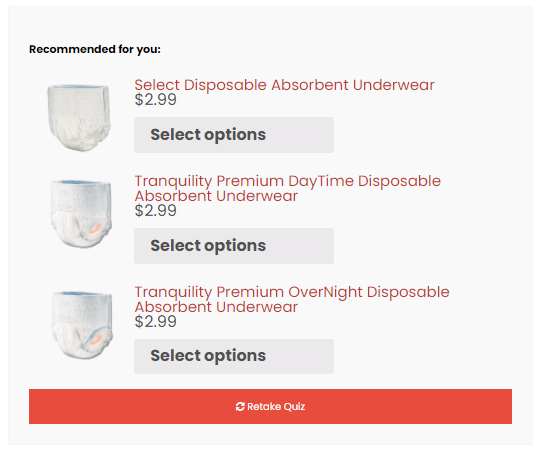 After completing Step 1-4, you will be shown the product(s) that are recommended for you! Click on "Select Options" to view additional product information and to advance to order samples.
How to Choose the Best Incontinence Underwear Pro-Tip: Try Samples!
For more information, also read tips for buying adult diapers.

We offer free 2-pack samples because we have found that sampling products is the best support for finding the right product for you. After learning the 4 Reasons to Sample Incontinence Products, navigate our website to order samples or contact us and we'll work with you to send your recommended product sample packs.
Related Posts: