Tranquility and Dementia, A Caregivers Experience – Kitty Wall
February 6, 2021
By Nathan Sheffer
Tranquility incontinence products were recently featured in the book, Dementia (Products Used and 8+ Years of Caregiving) by Kitty Wall. We interviewed Kitty to learn more about her experience as a caregiver for her husband, and how Tranquility helped her manage incontinence to support her overall caregiving experience.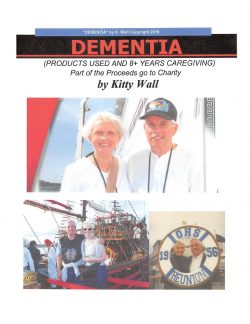 The Early Days
Kitty and her husband, David, were together for nearly 35 years. David was a mechanical engineer who worked at a space station. Kitty was an accounting instructor in their hometown of San Jose. While they both had previous marriages, Kitty and David were happy to start fresh together, and they enjoyed many years together before David began to experience memory loss.
Parkinson's Dementia
As David began to show signs of memory loss, Kitty retired from her job and they moved from San Jose to Fresno, CA. It took Kitty and David worked with doctors for about a year to determine if his symptoms were due to Alzheimer's Disease, another form of dementia, or Parkinson's disease. Since David did not have tremors or other common symptoms of Parkinson's, it took time to diagnose that Parkinson's was why he was experiencing memory loss.
Many adults with Parkinson's disease will develop dementia as the disease progresses. Approximately 2% of adults over 65 will develop Parkinson's disease. Of those who develop Parkinson's, about 50-80% will experience Parkinson's-related dementia. Parkinson's disease causes changes in the brain, typically affecting the region that controls movement, often causing some combination of shakiness, tremors, changes in stride and poster, and muscle stiffness. As the disease continues to progress, it can gradually reach the parts of the brain that affect memory, judgment, decision making, and the ability to pay attention.
Dementia and Incontinence
As David's condition progressed, he gradually lost recognition of Kitty and their life together. He began to gain weight, and Kitty needed support to help him. David also left the house a few times, which really began to scare Kitty.
Not long into Kitty's caregiving experience did David begin to become incontinent during the night. Kitty found various absorbent products from the store and pharmacy, but they were not working. The products would fall apart, and David and the bed were wet all the time. It was uncomfortable for David and extra work for Kitty to keep everything clean. "I was tired all the time and trying my best to provide care to my husband. But I was worn out and it was a vicious cycle," said Kitty.
She went online and eventually found Tranquility. "They were heaven-sent and helped me so much", Kitty exclaimed. "Once I found Tranquility, I never turned back. I was doing less laundry, less changing of clothes, and had more time to focus on other things for David." Kitty found success using the Tranquility Premium OverNight Disposable Absorbent Underwear for David during the day and through the night. Kitty and David experienced the Tranquility difference.
Kitty's Purpose
When asked why she wrote this book, Kitty said, "The most important thing is that the products in the book work! Use the daily chart to help take care of your loved one. Make sure they are safe and loved throughout the process. I want to help people who are going through what I went through. To know what to be prepared for. It hurt writing this book. All the memories… some good, and a lot of bad."
Legally, mentally, physically, and emotionally, there is a lot to prepare for when caring for someone with dementia, particularly early on as the disease or condition first presents. Kitty wrote this book to help others in a similar situation and has dedicated portions of the proceeds to go to charities.
Topics covered in the book include:
Legal
Safety
Long-Term Care Insurance
Disposable
Undergarments
Ideas to Keep Active
Tools Possibly Needed
Other
Resources to Help with Dementia Care
Home Security
Medical Equipment
Caregiver Providers
Hygiene
Urinary and Bowel Incontinence
Coping and Being Active
Yourself
Hospice Care
Where to Buy Dementia by Kitty Wall
Dementia by Kitty Wall is available in paperback at Amazon and Barnes and Noble, as well as digitally on Kindle, Google Play, and iTunes. Click below to purchase the book at your preferred location and medium.
More About Tranquility
Tranquility products have positively impacted the lives of thousands of caregivers and adults with incontinence. Our premium incontinence products use a unique blend of superabsorbent polymers that make our products some of the most absorbent products on the market today. Tranquility products offer extended wear times, allowing those with incontinence to sleep comfortably through the night or enjoy hours of daytime activities without the interruption of changing the product. Maximum absorbency and minimal leaks can allow confidence from users and caregivers alike, knowing they, or their loved ones, will be protected and safe. For caregivers, like Kitty, Tranquility helps provide peace of mind surrounding incontinence, allowing for more time for other caregiving activities and even self-care.
Try a sample of Tranquility today to experience the benefits yourself! Take our short survey to receive a free sample; if you have any questions regarding our products or what may work for you or someone you care for, please contact us. You can also explore our additional resources about dementia, incontinence, and caregiving. We are here to help you through this journey and hope we can help provide greater freedom, dignity, and time for the things you love.
A special thank you to Kitty Wall for sharing her story with us and including Tranquility Products in her book!