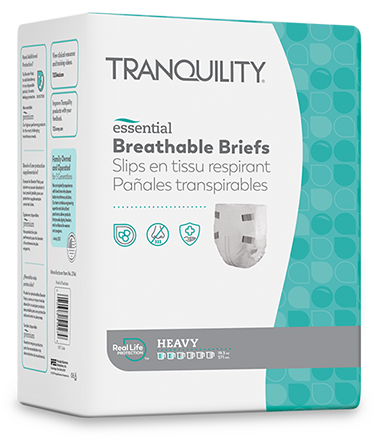 ---
Formerly Select and ComfortCare
---
Resources to Help You Prepare
Product Assets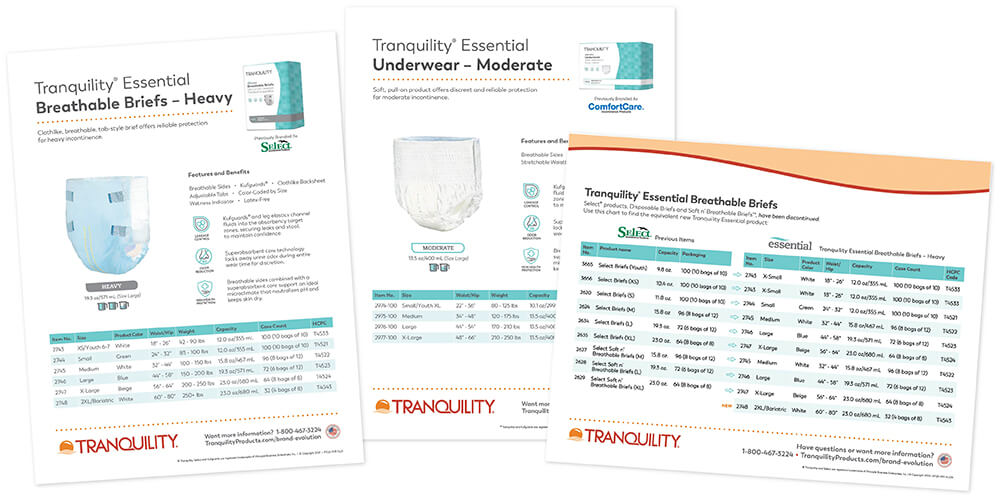 ---
About Tranquility Essential
Completed product line conversions:
Phased out Select Briefs and Select Soft n' Breathable Briefs, replacing them with Tranquility Essential Breathable Briefs.
Transitioned the Select and ComfortCare Absorbent Underwear lines into Tranquility Essential Underwear.
Transitioned Select Underpads* to Tranquility Essential Underpads.
Select and ComfortCare booster pads #2760, #2762 and #19244 transitioned to Tranquility Essential.
Select Booster Pads #2770 (Heavy – Youth) transitioned to Tranquility Essential.
*Underpad shipping cases will feature a Tranquility Essential label, but individual packs will remain in clear packaging.
Use this SKU cross-reference chart to find the equivalent new Tranquility Essential product.
---

Our highest-performing range of incontinence products. Find the ideal balance of protection, comfort and design to fit your unique needs, with a diverse selection of sizes, types and absorbency levels.

High-quality products with reliable performance to support comfort and confidence for those with moderate to heavy incontinence.

Products specifically innovated for unique use cases and specialized needs, empowering wearers and caregivers to achieve a new level of freedom.
Contact Us
Fill out the form below to order free samples, get more information or leave feedback.
Please let us know if you have any questions, and your Tranquility representative will reach out shortly.