Booster Pads
Booster Pads are flow-through pads designed to add absorbent capacity to your primary disposable incontinence product. The flexible design allows for personalized positioning to add protection when and where you need it – ideal for pairing with protective underwear or brief-style products.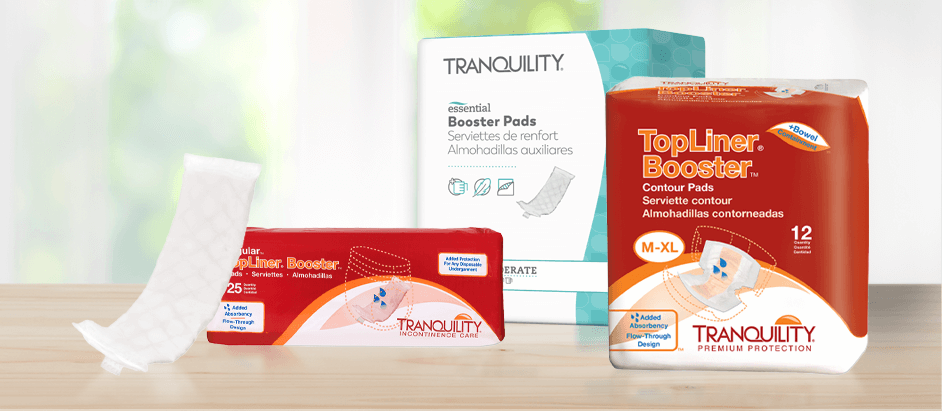 ---
About Booster Pads
Booster pads are an extra layer of protection against incontinence. Sometimes known as "inserts," these are designed to be worn in another disposable incontinence product, such as a tabbed brief or pull-on underwear. Unlike a standard personal care pad, booster pads have a flow-through design. This means once the pad has absorbed an initial amount of fluid, additional fluid will flow to the brief or other incontinence product in which it has been placed.
What are Booster Pads Good For?
Booster pads extend the lifetime of the primary product the wearer is using. Fewer changes mean more time and money saved. This product is also ideal for those who experience a heavier to severe level of incontinence and need that additional help on top of their main maximum absorbency product.
These pads also allow for flexible placement. Using the adhesive strip to keep the pad secure, this item can be placed to target the area where extra protection is needed most. This can differentiate between men and women – for women, this could be toward the center of a disposable brief, and for men this could be more toward the front. Booster pads can be folded for better placement, but they should never be cut.
Booster pads can be applied to nighttime incontinence products to ensure peace of mind and an uninterrupted night's sleep. They also can be easily swapped out throughout the day to cut time in having to change a larger product.
Booster pads are a versatile product equipped to serve a variety of needs.
Please note, booster pads are NOT meant for regular underwear – they are only meant to be placed inside other disposable products designed for incontinence.
How Do I Find My Size?
Finding the right size booster pad will depend on the product you are pairing it with.
One primary factor will be the level of absorbency you need from a booster pad. Maximum absorbency briefs or pull-ons will likely require a more heavy-duty booster pad, such as the Tranquility TopLiner Booster Pads. On the other hand, if you do not need an additional maximum absorbency product, a thinner booster pad intended for moderate absorbency may be a more comfortable option, such as the Tranquility Essential Booster Pads – Moderate.
Another factor will be the size of the product itself. For example, larger products such as tabbed-briefs and bariatric-sized products benefit from a booster pad with a larger surface area, such as the Tranquility TopLiner Booster Contour Pads.
Still Need Help?
Contact our Customer Care Center today to find out which superabsorbent products are right for you.
Call: 1-866-865-6101, Monday-Friday 8 a.m. to 5 p.m. ET
Email: CustomerService@pbenet.com, anytime
---