Protective Underwear
Protective Underwear are pull-on products that fit like regular underwear. Options range from moderate to maximum absorbency, for daytime and overnight protection. Feature clothlike material that's quiet under clothing, with pull-on convenience and comfort for active lifestyles.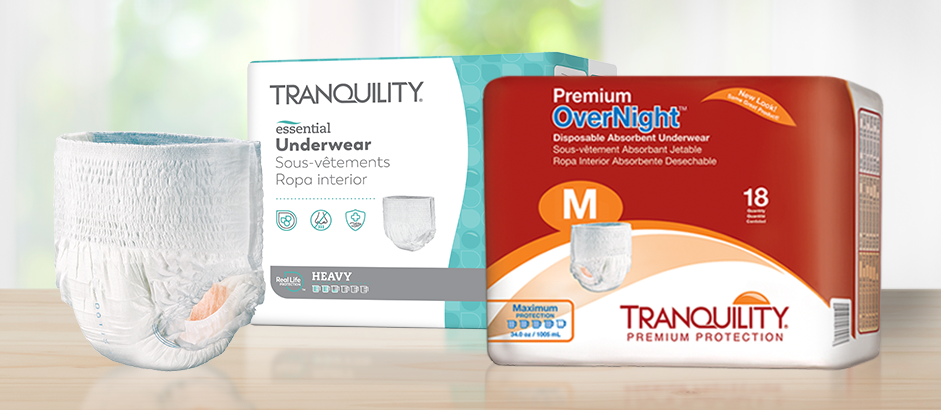 ---
About Our Adult Pull Ups Disposable Underwear
Disposable Absorbent Underwear are a style of adult pull up incontinence product. Unlike traditional adult diapers, adult pull ups do not have adhesive tabs in their design, making them more closely resemble traditional underwear. Like their tabbed counterparts, however, this pull up style product is available in maximum absorbency levels to protect against severe bowel and urinary incontinence, making adult pull ups ideal for extended wear.
What Are Pull Ups Good For?
Adult pullups are designed to protect for moderate to maximum absorbency of both urinary and bowel incontinence. As pull ups are designed to protect against the more severe forms of incontinence, they are ideal for long-term wear. This means pull ups are ideal for both for overnight wear and throughout the day.
The design of pull ups is typically recommended for those who are changing themselves. Available in clothlike materials, pull ups are discreet and quiet under clothing, making them both comfortable and convenient for those with more active lifestyles. Pull ups promote independence and self-confidence for wearers as they can change themselves as needed throughout the day.
Also, for those who are new to wearing more heavy-duty incontinence supplies, making the move to pull ups can be intimidating. A pullup can be a good steppingstone to make the transition easier as they are most similar to regular underwear.
How Do I Find My Size?
The recommended method for finding the right size disposable underwear is by measuring the widest part of your body between waist and hip. Using this measurement and comparing it to the sizing charts provided for all Tranquility brand disposable absorbent underwear will make it easy to find the right size of pull ups for you.
If you are still unsure, using weight as a measurement can also be a supplementary way of making sure you've selected the right size of pull up diapers. However, please note that weight will not be a full-proof indication that you've selected the right size pull up diapers, as weight distribution can be vastly different across individuals. Additionally, one common misconception is that the bigger the product, the more absorbent it will be. This is false – selecting adult pull up diapers with the most snug and comfortable fit will be what lets the wearer get the best, most absorbent results from their disposable underwear.
If you feel you are trying to balance between more than one size, sampling Tranquility products is a good option for you! Learn more about sampling adult pull up diapers here or contact our Customer Care Center at the number listed below.
Do Adult Pull Ups Go by Different Names?
Yes! Adult pull up diapers, protective underwear or other adult incontinence products go by many different names. Some refer to them as adult diapers, adults pullups or adult pull ups, pull up diapers or just pull ups. What's most important is that you understand whether the products you are considering are like regular underwear that you pull onto your body, or they are tab style briefs (also called a disposable brief) that wraps around your body and closes with tape or hook-and-loop near your hips. Either protective underwear or disposable briefs work, as long as they give the protection you need.
Still Need Help?
Contact our Customer Care Center today to find out which adult pull up diapers, protective underwear or other adult incontinence products are right for you.
Call: 1-866-865-6101, Monday-Friday 8 a.m. to 5 p.m. ET
Email: CustomerService@pbenet.com, anytime
---