Where to Buy Tranquility® Overnight Pull-Ons
June 28, 2022
By Nathan Sheffer
Disposable protective underwear, sometimes referred to as "pull-ons" or "adult diapers," have been trending as the newly preferred style of incontinence care garment for the last few years. Researchers predict that sales of protective underwear will double over the next decade or so1, and Tranquility® OverNight Pull-Ons have quickly become one of the most popular product lines that we offer. With thousands of 5-star reviews from various retailers, caregivers and wearers rave about the product's absorbency, protection and extended wear time.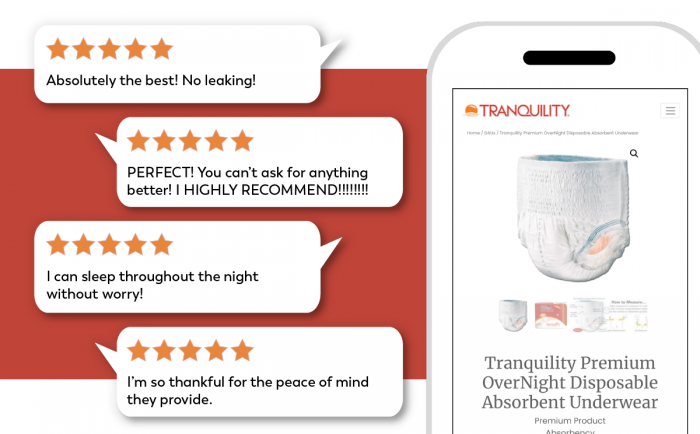 With this growing popularity, more of our consumers are looking to purchase pull-on underwear. A few of the most common questions we receive about these products are:
What is the difference between incontinence care disposable briefs and pull-on underwear?
Where can I buy Tranquility OverNight Pull-Ons?
Let's explore the answers to both questions.
The difference between incontinence care disposable briefs and pull-on underwear
Briefs:
Disposable briefs feature tape or microhook tabs on the sides that attach in the front to hold the brief snugly against the body
Available in either a poly (plastic) backsheet or a clothlike backsheet for added comfort and breathability
Designed to contain both urinary and bowel incontinence
Can offer very large capacity to hold fluid – some Tranquility briefs can lock in up to 34 oz of fluid
Some wearers may think they are a bit bulkier than pull-on underwear
For those with incontinence who cannot easily change their incontinence garment on their own, the ability to open and re-open the tabs on a brief makes checking and changing a little more convenient for their assisting caregiver
Underwear:
Pull-on style underwear are worn like traditional underwear
May be preferred by those who are independent and want to wear a product that is more like their typical underwear
May feature a soft, elastic waistband that provides a more contoured, discreet and comfortable fit that moves with you
Most pull-on underwear can be torn open at the waist for easier, cleaner and more convenient removal
Despite their potentially slimmer profile, can also offer considerable fluid capacity – some Tranquility pull-ons can lock in up to 34 oz of fluid, the same as their briefs counterparts
Please note: While this article focuses mainly on our Tranquility OverNight Pull-Ons that are part of our Tranquility Premium Product lineup, we also want to let you know that we offer a recently refreshed Tranquility Essential line of products that includes Disposable Pull-On Underwear in both Moderate and Heavy protection levels. Our Tranquility Essential brand was developed to provide reliable protection and is designed to meet the strictest state Medicaid performance requirements. If you are eligible for Medicaid coverage on your incontinence care products, you may be able to receive these items at no cost.
Please read our comprehensive guide to Medicaid coverage of incontinence supplies for more information.
Where to Buy Tranquility Overnight Pull-Ons
Tranquility works with distributors and Durable Medical Equipment (DME) dealers (also known as an HME or Home Medical Equipment dealers) across the country to offer Tranquility Products, including Tranquility OverNight Pull-On Underwear.
Using the Tranquility Where to Buy tool, you can find both online and in-store dealers of Tranquility Products.
How to Use the Where to Buy Tool
Step 1: Visit our Where to Buy page.
Step 2: Determine if you prefer to visit a physical/brick-and-mortar DME store near you or purchase online.
Reasons to Buy from a DME Store
DME stores are located all around the U.S. These dealers typically offer a wide range of medical equipment, including wheelchairs and mobility devices; fall prevention equipment like grab bars; safety solutions like raised toilet seats; and incontinence supplies like briefs, pull-ons and other disposable products. DME dealers have a range of products and their staff is trained to help answer your product questions.
Reasons to Buy Online
Shopping online has never been easier. Nearly all retail businesses offer the same products in-store for you to purchase online, with fast shipping, right to your door. From the comfort of your home, you can click around and view different products, compare features and order the products you want, whenever you are ready.
Step 3: Find a Store: When looking for a store, start by entering your ZIP code. Next, select your desired search radius and then click search.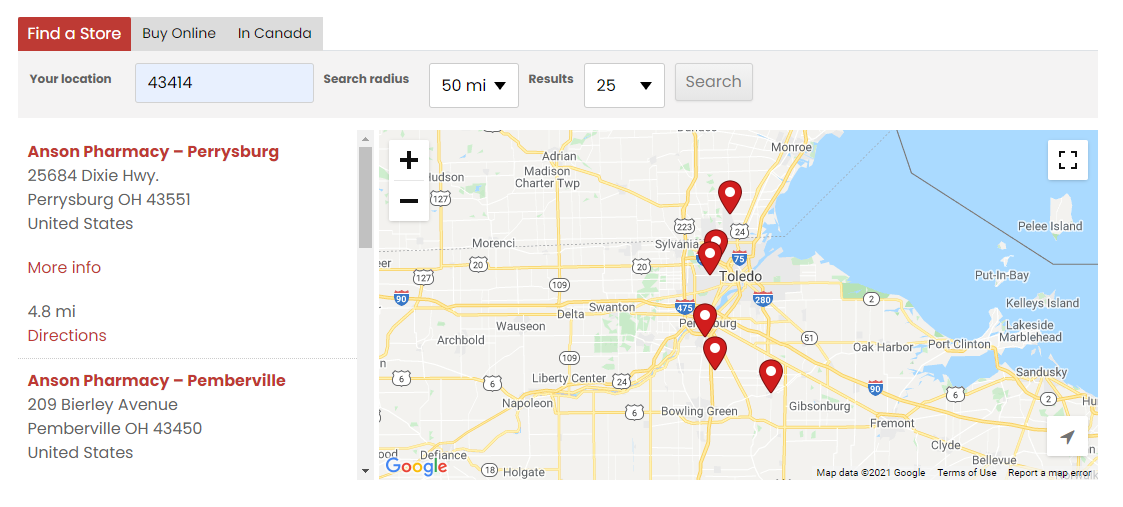 Step 4: View the Results
After you search, view the provided results to find the store location you prefer. If you know you are looking to purchase Tranquility OverNight Pull-Ons, give the location a quick call to ensure they have the product in stock. You may also ask about other medical supplies you may need.
If you already shop at a DME retailer in your area that does not offer Tranquility, you can call them and request they add Tranquility to their product offering. We are always working with new dealers to make Tranquility available to more people.
Alternatively, if you are looking to find an online retailer, select the Buy Online tab near the top of the page.
At the top of our Where to Buy Online page, you will find a dozen Featured Online Partners. These 12 are the largest online Tranquility retailers, and most of them carry a broad range of Tranquility products.
Below the Featured Online Partners, there are Additional Online Partners who sell many Tranquility Products. As you scroll through the list, you may find a retailer you recognize or have used to order absorbent products in the past.
If you are unsure of where to start, any of the 12 Featured Online Partners are very familiar with Tranquility and all of them offer Tranquility OverNight Pull-Ons.

Where to Buy Tranquility Overnight Pull-Ons in Canada
Tranquility Products are currently available for retail purchase in the U.S. and Canada. If you live in Canada and are looking to buy Tranquility OverNight Pull-Ons, click the In Canada tab. This will take you to Quality Life Services. Quality Life has locations in Winnipeg and Ottawa, and also ships Tranquility Products to many Canadian provinces and territories.
Trouble Determining Where to Buy Tranquility?
For additional support determining where to buy Tranquility OverNight Pull-Ons, our Tranquility Care Staff is here to help. Contact us with any questions related to Tranquility Products.
Also read our best overnight adult diapers list.
---
Reference
1. Tranquility proprietary commissioned research data