Veterans and Incontinence
November 9, 2023
By Robert Recker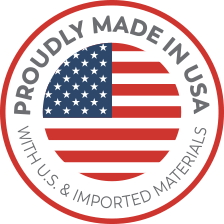 Approximately 3.5 million American Veterans, men and women, experience some level of incontinence. In fact, men who served in the military are three times more likely to experience urinary incontinence. As a U.S. manufacturer with over 35 years of experience, one of our goals at Tranquility is to serve military men and women who are dealing with incontinence. We are accomplishing this goal every day through charitable donations to Veteran causes (Elizabeth Dole Foundation, Freedom Serve Dogs of America, Wounded Warrior Project, and more), as well as by providing a great product to Veterans through the VAMC. Tranquility allows Veterans to feel safe and protected against incontinence and gives them back the freedom to enjoy the activities they love.
The Freedom of Tranquility
When incontinence goes unmanaged by low-quality products, urine odor and leakage can disrupt the daily routine. It is easy to become self-conscious, isolated, frustrated, and nervous to do simple tasks for fear of an accident and embarrassment. Over time, this can even lead to additional negative health effects, like isolation and depression.
But thanks to Tranquility, life with incontinence does not have to be that way! Tranquility's superabsorbent incontinence products can manage even the most challenging incontinent episodes. All Tranquility incontinence products are made with superabsorbent polymers that lock in odor and wick fluid away from the skin – so leaks, odor, rashes, and skin breakdown are a thing of the past!
Tranquility products give you the freedom and confidence to enjoy the activities and people they love. Not only is it great for you, but improved incontinence management can also improve the lives of your close friends and family, especially a caregiver.
Ask for Tranquility by Name
At the VA, you may not be given a choice of brands. Typically, your urologist or primary care doctor will write you a prescription for the "default" incontinence product. The default product may not be the best product for you. If you have moderate to heavy incontinence, you will benefit from the leakage protection, maximum absorbency, and extended freedom of Tranquility. Remember, there are other incontinence options available to you!
The best way to get Tranquility products covered by Veteran health benefits is to ask for Tranquility by name when visiting your doctor or filling a prescription. Tranquility is available on the National Drug file and serves over 90 VA Medical Centers and over 130 VA Outpatient Clinics through primary care, woman's health, and urology.
Our Veterans Affairs Incontinence Care Guide features a full list of items available under CMOP (Consolidated Mail Outpatient Pharmacy) through the VA. If Tranquility is not available on the local VA formulary, the best way to achieve this is to ask your primary care doctor and/or the pharmacy staff to request Tranquility products be added to the local VA formulary.
If you run into any difficulty requesting Tranquility products, or just want guidance along the way, please call us at 1-866-865-6101. We are happy to assist you in getting Tranquility products under your Veteran health benefits.
Sample Tranquility
Trying a sample of Tranquility is a great way to see and experience the premium protection and maximum absorbency of the products. We offer 2-pack samples and are happy to assist you in finding the right product to fit your lifestyle and goals! Our incontinence experts have helped hundreds of customers find the right solution. You can also receive a free sample of our products available through CMOPs. Once you try Tranquility, we are confident that you will see a significant improvement in managing your incontinence.
Tranquility is proud to support military men and women who are dealing with incontinence!
A Word from Vets
Over the years of serving Veterans, we have received many amazing stories about how Tranquility products have improved lives. Here are two examples of Veterans whose lives were improved by Tranquility products:
"I have dealt with urinary incontinence since an injury in the Marine Corps when I was 19 years old. During that 30 years, I have tried many different products and Tranquility has proven to be the most reliable solution.
As a civil engineer I go to a lot of job sites for extended periods, oftentimes with no facilities available. Your products give me the peace of mind and freedom I need to plan my day around my work, and not my bladder issues. Thank you for a great product!" – J.J., California
"I'm a Veteran with PTSD-related urinary incontinence. When my anxiety level rises or I have "flash back" symptoms it can cause an urge and lead to embarrassing accidents. My Tranquility product's ability to fully absorb a recent accident won me over. This diaper kept me and my clothing dry through a checkout line at the store and during a nearly one-hour drive in the car to get home with no leaks!
Knowing I'll be kept dry in those awkward moments gives me confidence." – Ed, Tranquility Customer