Introducing the Tranquility Male Guard – For Men!
August 29, 2018
By Nathan Sheffer
Tranquility® is proud to announce the Male Guard™: a brand-new product designed specifically for men. This superabsorbent incontinence pad features best-in-class absorbency, with 9.5 oz. of fluid capacity.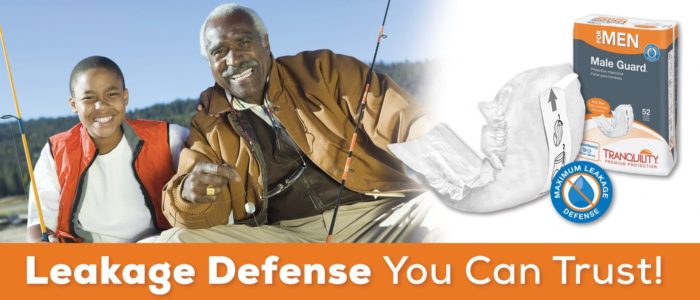 Why Choose the Male Guard
The Tranquility Male Guard is perfect for men with light to moderate incontinence looking for discrete protection. From dribbles to light leakage, the Male Guard will keep you protected and dry for hours, and changing this product is easy! The Guard is inserted into regular underwear using an adhesive back strip. Just peel the strip off, position the Guard with the center over the tip of the penis (for best results) and go on living your day like normal!
Urinary incontinence is common in men dealing with the following complications:
High Blood Pressure
Sleep apnea or sleep disorder
These are just a few of the common conditions that may lead to urinary incontinence, there are many others.
The Benefits
Maximum Leakage Defense™
We've all heard the saying "the best offense is a good defense" and "defense wins championships", the Tranquility Male Guard is the '85 Bears of defense, carrying you to the championship (daughter's wedding, grandkids game, whatever matter most to you)! The Tranquility Male Guard has a soft absorbent core that draws fluid into the product. It features 9.5 oz. of absorbency and utilizes active side elastics to form a cup shape and create a firm barrier against leakage.
Peach Mat Guarantee
All Tranquility Products feature the Peach Mat Guarantee: Unsurpassed overall performance in the areas of…
Skin Dryness
Odor Reduction
Urine neutralization
Inhibition of bacterial growth
Premium Comfort
The cloth-like, moisture-proof backing and adhesive strip allows the guard to be securely worn in snug-fitting underwear. No uncomfortable sliding, no awkward adjusting, and no leaks!
Made in the USA
The Tranquility Male Guard is proudly manufactured in Ohio, USA with use of both domestic and imported materials.
If you are a man struggling with light to moderate incontinence, the Tranquility Male Guard may be for you! Try a Male Guard Sample and see how Tranquility helps you live life with dignity and confidence.
Related Posts: