Managing Incontinence During COVID-19
April 17, 2020
By Josef Halcomb
Thank you
Thank you to the 2.6 million active nurses in the U.S.A. who have answered the call and are devoted to caring for the most vulnerable among us, the sick.
The Nursing Profession has always experienced day to day challenges and many times exceptional situations; however, with the current COVID-19 pandemic, the challenges have grown deeper and wider, yet you continue to stay committed to your patients and your calling. We appreciate and greatly respect the work you are doing.
Challenges
As we all know, it's not business as usual. And we're all stretching with new processes to meet the greater demands, while continuing to provide excellent care to your patients.
With a significant emphasis on personal protective equipment (PPE) for healthcare workers, there are also additional approaches one can take to protect both the caregiver and the patient. This is especially true for those patients experiencing incontinence, where frequent changes promote increased exposure time and closer contact with patients throughout the day.
Solutions
Every day, caregivers are testifying that premium incontinence solutions have lessened the burden of caring for their incontinent patients. Integrating superabsorbent incontinence products into a patient's daily care plan reduces the number of daily changes, resulting in less physical stress on the caregiver, less labor, less time spent changing briefs (and often clothing and linens) and less overall exposure time with the patient. This is a win-win situation for both the caregiver and the patient.
Here are additional ways to protect yourself, your staff and your incontinent patients from avoidable exposure with premium solutions that deliver results: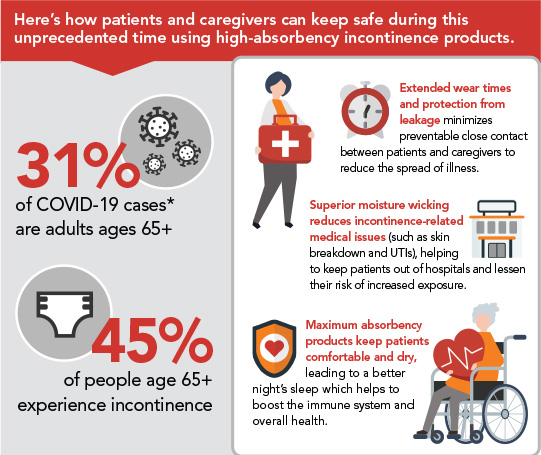 1) Extended wear time may decrease caregiver exposure time with patients affected by COVID-19, as well as decreases the number of changes required as patient workloads increase. Clinical studies have proven that using premium incontinence products can reduce up to 75% of brief changes. 1
2) Superior moisture wicking reduces incontinence-related medical issues (IAD/MASD) for all patients and decreases the risk for those prone to pressure injuries. This will support a healthy microenvironment for your patients and reduce unnecessary stays. Premium incontinence products have been proven to reduce the development of pressure ulcers by 83%. 2
3) Maximum absorbency keeps patients comfortable, dry and warm improving their overall quality of life. Caregivers gain confidence in continuing to deliver excellence of care during the current COVID-19 challenges. It has been proven that using premium incontinence products can help keep skin 83% drier. 3