Transitioning to Youth Diapers: Finding the Right Fit Guide
July 18, 2022
By Nathan Sheffer
Parents of children with special needs, or older children still experiencing nighttime bedwetting, will need to transition their child into Youth diapers once he or she has outgrown traditional baby diapers. This transition can be difficult for many reasons, but it can be a little easier once you understand the proper fit for popular Youth diapers.
Tab placement for Youth diapers is different than baby diapers and using the same placement after the switch can be uncomfortable and cause unnecessary leaks. For tape-tab style products, the fit and tab placement is different than baby diapers, and we get a lot of questions from parents.
Tab Placement for Youth Diapers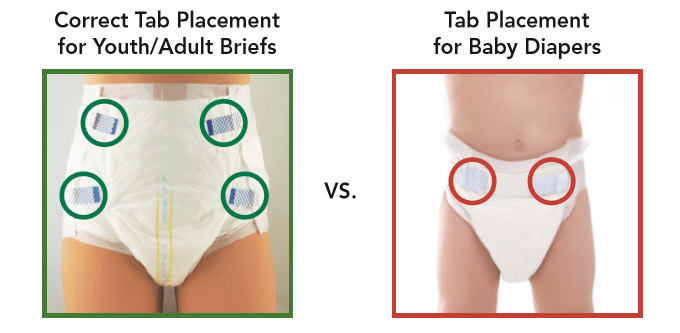 Youth diapers have four tabs, to ensure a secure fit. To get the correct tab placement for Youth briefs, fasten the bottom tape tabs first, angling them slightly upward. Then, fasten the top tape tabs and angle them slightly downward. While some baby diaper tabs meet in the middle or attach near the center of the hips; Youth diaper tabs must be applied to the side of the brief and should be secure. If the tabs meet more toward the middle, aligned with the inside of the legs, this brief is too big and doesn't fit properly. Alternatively, if the tabs are near the outside of the hips or you must pull too tight to get them attached, this brief is too small for your child. Finding the right brief and fit for your child is crucial to their comfort and skin health, and also instrumental in helping you sleep and minimizing leaks and clean up.
At Tranquility® we have designed multiple Youth diapers to meet the needs of children dealing with incontinence or nighttime bedwetting (nocturnal enuresis). For children 28-42 lbs., we have the Tranquility SlimLine® Original Brief (10.2 oz capacity). SlimLine Original feature refastenable Micro-hook closure tabs that grip the soft, cloth-like backsheet for a secure fit and are also available in size 5/6 for waist sizes 16"-22". The Tranquility ATN™ (All-Through-the-Night) Brief is available in size 6/7 (or waist sizes 18"-26"), can absorb 18.5 oz of fluid and is a top-selling incontinence product.
Alternatively, if your child wears pull-ups, Tranquility also features pull-on style Youth diapers. Tranquility Essential Underwear – Heavy is offered in three sizes: Youth (15"-25" waist/hip), X-small (17"-28"), and Small (22"-36"). All three sizes absorb 14.5 oz of fluid and feature breathable sides and a full-rise waist panel for a comfortable and secure fit.
As always, if you have any questions about the right product, right size, proper application, proper fit, or any other number of questions you may have, our Care Team can help. The Tranquility Care Center is open M-F 8 a.m. to 5 p.m. ET and can be reached by calling 1-866-865-6101.
Did you know our youth diapers may be covered by your state Medicaid program? Plus, most children with special needs can qualify for Medicaid regardless of the parents income. Learn more about Medicaid Coverage of Incontinence Supplies.