7 Best Super Absorbent Diapers for Adults
November 10, 2023
By Hayley Milne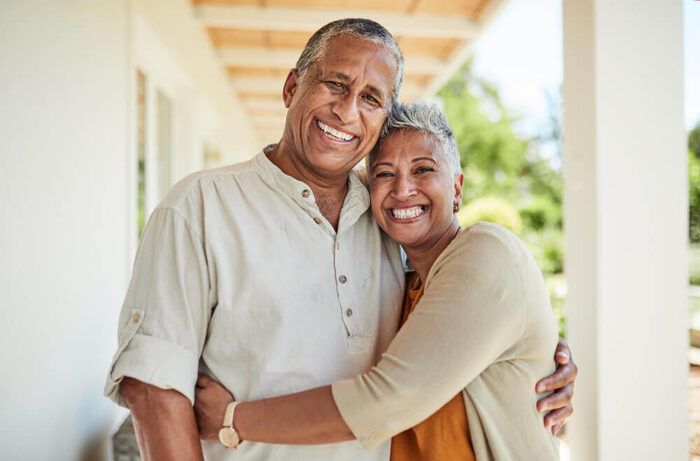 Tranquility is committed to being your trusted partner in providing premium solutions for incontinence management. We understand the importance of staying comfortable, confident and dry, which is why we've compiled a list of the 7 best super absorbent diapers. Whether you're looking for adult diapers or youth diapers, our selection guarantees top-notch performance.
Let's dive into the world of super absorbent diapers and find the perfect fit for your needs!
What Makes Super Absorbent Adult Diapers Essential?
Before we dive in – why is a super absorbent diaper essential?
Well, many of the products from big box stores don't offer protection for heavy to severe incontinence. This means more changes and more briefs are required throughout the day (and night) to keep skin clean and dry.
The most absorbent adult diaper can make a world of difference for those with heavy incontinence! That's really our niche here at Tranquility: super absorbent adult diapers designed to handle heavy wetness and provide lasting comfort. They keep you dry, protect your sensitive skin and minimize the hassle of frequent changes. Our most absorbent adult diaper underwear briefs can hold up to 34 oz of fluid AND contain fecal matter!

Here are 7 of our best options for individuals who need super absorbent adult diapers*:
(Note: Some of our best adult diapers are also available in youth sizes)
Absorbent Adult Diaper Options for Everyday
In our first category of the most absorbent adult diaper options, we are focused on comfortable briefs and underwear for daily wear that offer maximum absorbency. These options support bowel incontinence and/or urinary incontinence.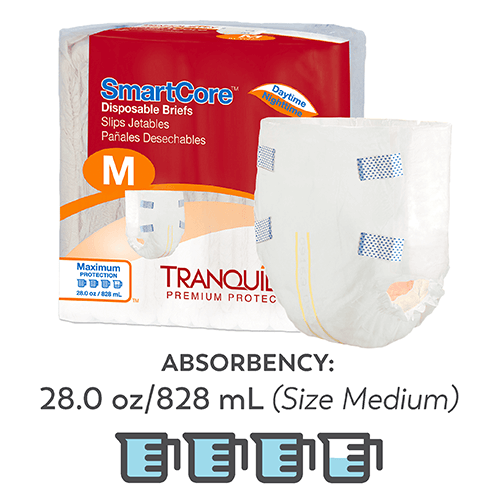 I. Tranquility SmartCore® Briefs
Our Tranquility SmartCore briefs are a testament to innovation and reliability. A smart choice for healthy skin, these briefs have our maximum level of absorbency with the ability to hold up to 34 oz of fluid. Breathable sides allow damaging heat and humidity to escape, providing a comfortable environment for healthy skin.
Features:
– Absorbency up to 34 oz
– Breathable sides
– Kufguards® leg cuffs
– Clothlike backsheet
– Micro-hook Closure Tabs
– Color-coded by size
– Wetness indicator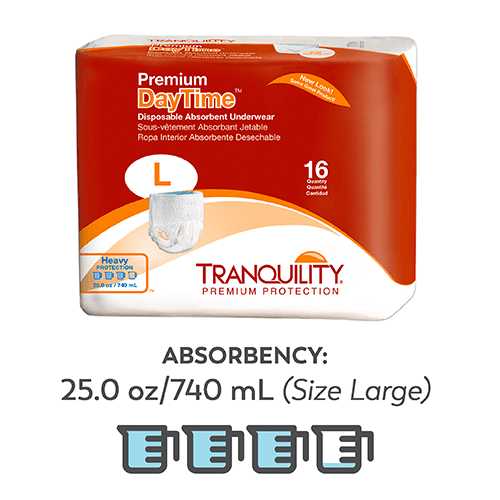 II. Tranquility DayTime™ Underwear
Live to the fullest in all-day confidence provided by quiet, form-fitting materials that move with you for leak-free security. These are great for active adults looking for a secure fit and for extended wear without skin irritation. These pull ups offer a snug fit and keep skin dry.
Features:
– Absorbency up to 25 oz
– Breathable sides
– Kufguards leg cuffs
– Clothlike backsheet
– Full-rise waistband
– Tear-away side seams
– Leg elastics
Absorbent Overnight Adult Diapers
Our second category of best adult diapers for absorbency is focused on overnight diapers. These are our recommendations for the best overnight diapers, each featuring an absorbent core and odor control. Here are recommendations for the most absorbent adult diapers for overnight: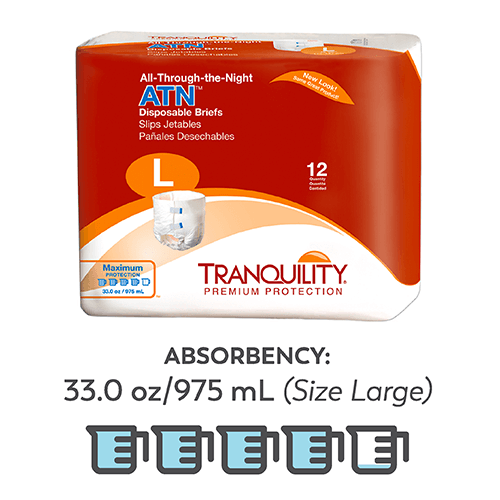 III. Tranquility ATN™ (All-Through-the-Night) Briefs
Experience the ultimate night's rest, featuring a full-fit super absorbent core for unmatched security and ample capacity to ensure you stay protected and dry throughout the good night's sleep. Frequently voted the best overnight diaper, these adult briefs prevent nighttime leaks and keep skin healthy.
Features:
– Absorbency up to 34 oz
– Full-fit core
– Kufguards leg cuffs
– Poly-backed diaper (plastic-backed diapers)
– Refastenable tapes
– Leg elastics
– Wetness indicator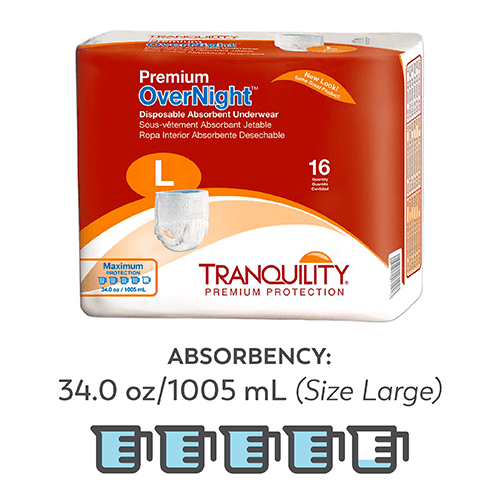 IV. Tranquility Premium OverNight™ Absorbent Underwear
Need adult nighttime diapers? Elevate your sleep with Tranquility OverNight Underwear for leak-free nights. Kufguards guide urine to the core, absorbing up to 34 oz – ideal for multiple voids in overnight diapers. It keeps you dry, is gentle on the skin and ensures no leaks. This is one of our top-selling, best overnight adult diapers in our most absorbent adult diapers category. The pulls ups have breathable material that allows for greater skin protection.
Features:
– Absorbency up to 34 oz
– Breathable sides
– Kufguards leg cuffs
– Clothlike backsheet
– Full-rise waistband
– Easy-tear side seams
– Leg elastics
Absorbent Booster Pads
While they are not in the adult diaper or pull ups category, booster pads help add extra absorbency to any disposable underwear or brief. So if you find yourself leaking through even the most absorbent options on the market, consider adding a booster pad for extra absorbency.
Boosters help provide extra protection with their flow-through design. They absorb initial fluid before passing additional moisture into the primary incontinence underwear or brief. Note that they cannot be used in normal underwear.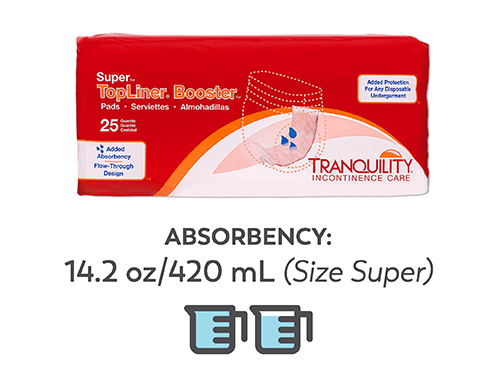 V. Tranquility TopLiner® Booster Pad in "Super"
The TopLiner booster offers an extra line of defense against leaks for longer wear time with fewer changes and helps with preventing leaks. The Super can add up to 14.2 oz of extra absorbency.
Features:
– Additional 14.2 oz of heavy absorbency
– Flow-through design
– Clothlike
– Adhesive strip
– Works in adult diapers or briefs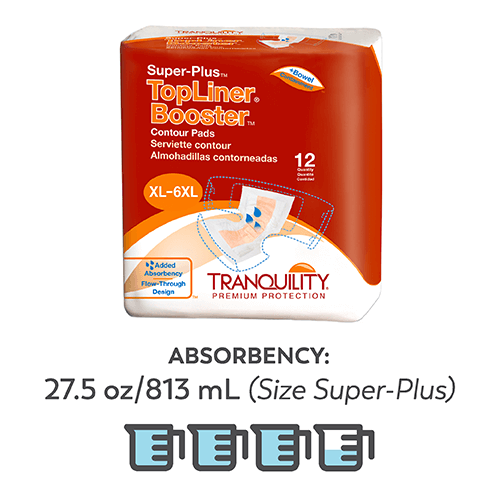 VI. TopLiner Booster Contour Pads
Similar to the TopLiner booster pad but with a contoured shape offering even more skin protection. The contour pad in size "Super-plus" can hold another 27.5 oz of fluid. It is a booster with one of the highest absorbency levels on the market!
Features:
– Additional 27.5 oz of high absorbency
– Flow-through design
– Clothlike
– Wide, hourglass shape
– Larger size and surface area
– Allows for longer periods between changes
– Works in adult diapers or briefs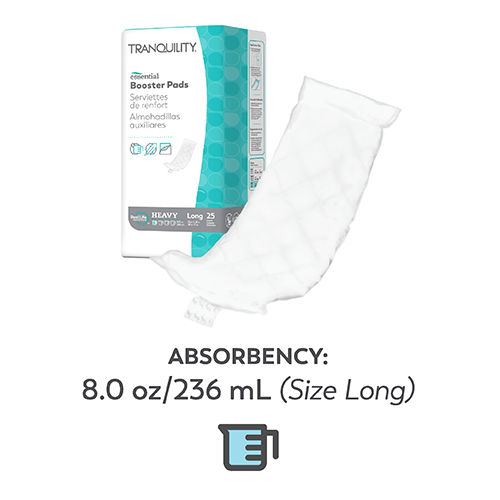 VII. Tranquility Essential® Booster Pads
Looking for a booster pad that still offers excellent protection but at a friendlier price point? Consider the Essential Booster Pad that can add up to 8 oz of extra protection to any adult diaper. Feel secure with an extra layer of protection!
Features:
– Additional 8 oz of high absorbency (in size "Long")
– Flow-through design
– Clothlike
– Adhesive strip
– Works in adult diapers or briefs
Skin Care and Protection
Your skin's well-being is important, especially when it comes to choosing the perfect adult diaper. On average, you're changing the diaper about every eight to ten hours. That's why skin dryness is essential, and it's a key factor when you're hunting for the best overnight adult diaper.
Make sure the adult overnight diaper is not just super absorbent but also designed to whisk away moisture quickly and lock it into the diaper's core pad (all of the products we've mentioned do that!).
A top-notch adult diaper should feature a top layer that pulls moisture far away from your skin. These features work together to keep urine clear of your skin for longer, preventing nasty breakdowns.
Conclusion
In our quest to be your preferred partner in managing incontinence, Tranquility has carefully selected and presented to you the 7 best super absorbent diapers, offering the promise of unmatched comfort, unwavering confidence and the cherished feeling of staying dry. Whether you're seeking the best adult diaper, overnight diaper or youth diaper, our assortment guarantees top-tier performance.
Why are super absorbent diapers indispensable, you may ask? Often the products found in major retail stores fall short in providing protection for heavy to severe incontinence, resulting in the need for constant changes throughout the day and night to maintain skin health. We want to ensure you find the right adult diaper for your unique needs.
A super absorbent adult diaper, the specialty we pride ourselves on here at Tranquility, can transform the lives of those dealing with adult incontinence. Our briefs, absorbent underwear and overnight diapers have an absorbency level of up to 34 oz of fluid, and prevent leaks, deter diaper rash and help stop urinary and fecal incontinence.
With our curated list of the 7 best super absorbent diapers, we are committed to enhancing your quality of life by delivering diapers for adults that ensure you remain dry, protected and free from the inconvenience of frequent changes.
Choose Tranquility for a new level of comfort and confidence in the face of incontinence. Your well-being, comfort and peace of mind are our highest priorities.
Discover the difference today and embrace the Tranquility promise.

---
Frequently Asked Questions
What are the most absorbent diapers for adults?
The most absorbent adult diaper option we have at Tranquility Products is the SmartCore brief, ATN brief or Premium OverNight Underwear, which when paired with the TopLiner Booster Contour Pads in size "Super-Plus" can hold up to 61.5 oz of fluid.
How do I use a booster pad?
Remove the adhesive plastic or backing material from the booster pad and place inside a disposable brief or disposable underwear. The booster pad has a "flow-through back," meaning that it will first fill up with fluid and then pass any excess into the host undergarment (the brief or underwear).
The pad's adhesive side should face out, away from the body. Make sure the pad is fully contained within the host incontinence product; no part should extend beyond the edges.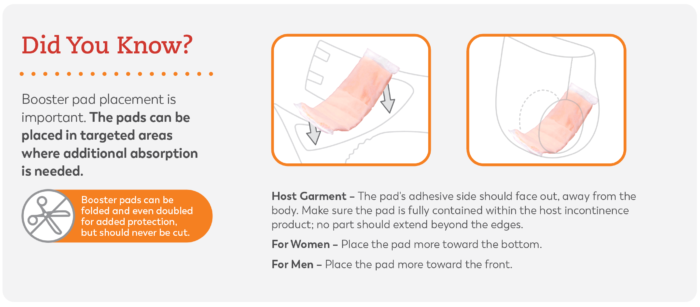 Where do I put a booster pad?
Place the booster pad in targeted areas where additional absorption is needed. Men typically prefer the pad more towards the front; women place the pad more toward the bottom.
Can absorbent diapers be used for fecal incontinence as well?
Yes! All of the adult diapers mentioned above contain bowel incontinence as well as absorb and contain urinary incontinence.
What adult diaper is best for overnight use?
We recommend either our ATN brief or the Premium OverNight diaper as the best diapers for adults with large-void incontinence. Add incontinence pads, such as boosters, for extra protection.
---
Need Help?
If you're feeling overwhelmed by all the choices, don't worry. Our dedicated customer service representatives are just a phone call away. Ring us at 1-866-865-6101, and we'll help you find that perfect overnight adult diaper that'll give you the sleep you've been dreaming of. We're always here to make your nights better and your days brighter!
You may also complete a brief survey for a free product sample here.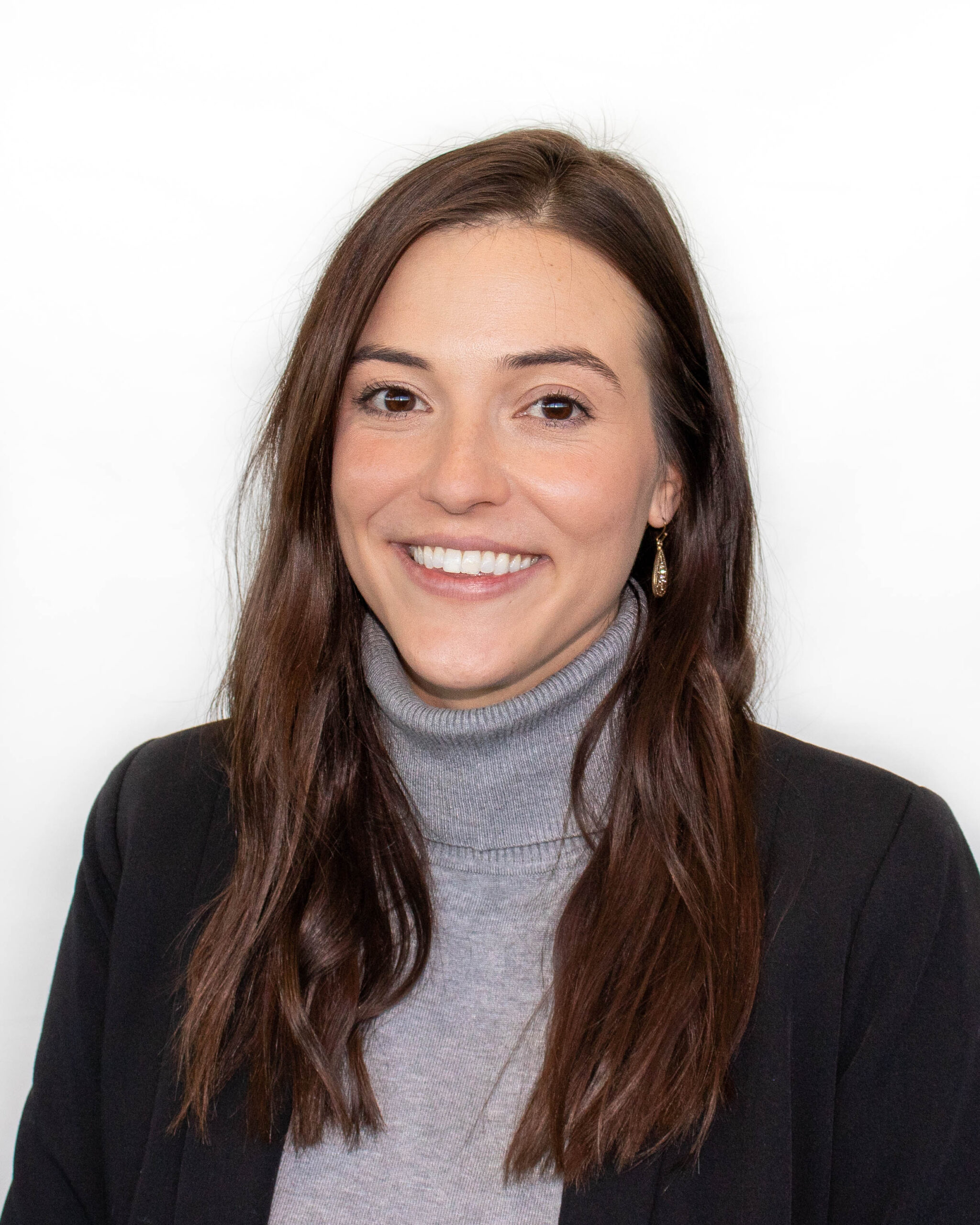 Hayley Milne
Hayley is a Brand Supervisor for Consumer Marketing at Principle Business Enterprises, parent company of Tranquility Brand Continence Care Products. She has 10+ years of experience leading tactical integration of business objectives and guiding creative execution. She is passionate about brand and customer experience.
For more information or questions about this article, please call 1-419-352-1551 or email CustomerService@pbenet.com.