Changing Incontinent Patients During COVID-19
April 28, 2020
By Josef Halcomb
The CDC has repeatedly emphasized the importance of practicing social distancing during the COVID-19 pandemic, but for caretakers of incontinent individuals, social distancing is not always an option. Consequently, the need for closer contact during changings may feel like you are putting yourself or your patient(s) at risk for exposure. However, there are precautions you can take to ensure your safety and your patient(s) safety.
Here's what you need to know —
Can COVID-19 be spread through urine or fecal matter?
The jury is still out.
While most research indicates COVID-19 is only transmitted by respiratory droplets, some preliminary studies suggest the disease may also be spread via fecal-oral transmission. While additional research is needed to confirm initial findings, caregivers can protect themselves through wearing a mask and gloves during patient interactions.
The same mask can be worn throughout the day, but gloves must be disposed of immediately after changings. Gloves should be put on after entering a patient's room, and no other surfaces should be touched prior to the changing (i.e.; door knobs, drawer handles, etc.). The CDC also recommends washing hands with soap and water for at least 20 seconds immediately after the removal and disposal of gloves. Avoid touching your eyes, nose, or mouth with unwashed hands.
Can I tell if my patient might have COVID-19 through changes in their stool or urine
Possibly, but it's not a clear sign.
The CDC has not reported changes in fecal matter or urine appearances as a symptom of COVID-19. However, new research indicates there may be a subgroup of COVID-19 cases that experience gastrointestinal and digestive symptoms, such as upset stomach and diarrhea.
If a patient shows common symptoms of COVID-19 such as fever, cough, shortness of breath, chills, sore throat, headache and muscle pains – in tandem with diarrhea or upset stomach – it is best to get them tested for COVID-19. Signs of diarrhea and upset stomach alone are not enough reason to get tested for COVID-19.
In the instance of recurring diarrhea episodes additional absorbancy and containmen, beyond what a standard disposable brief provides, may be needed. Utilizing a booster pad, like Tranquility TopLiner Booster Contour Pad can help provide extra absorbancy and aide in the containment of excess waste.
The wide hourglass shape of the Tranquility Topliner Booster pad helps contain bowel movements and a soft texture makes clean-up easier.
Should I be using cleansing wipes during each changing?
Absolutely! But it won't kill COVID germs.
Cleansing wipes during changes are helpful for a quicker, smoother cleanup. Certain wipes also contain ingredients like aloe, chamomile, and Vitamin E to soothe skin, like these Tranquility Cleansing Wipes. However, no cleansing wipe on the market can eliminate COVID-19 germs entirely. The most effective way to remove COVID-19 virus particles from the body's surface, is with soap and water.
Tips to Properly Change Briefs
In addition to wearing a mask and fresh gloves, make sure you are following brief-changing protocol to ensure a safe, clean, and time-effective changing. See the best practices below for changing a patient while standing, sitting down, or lying down.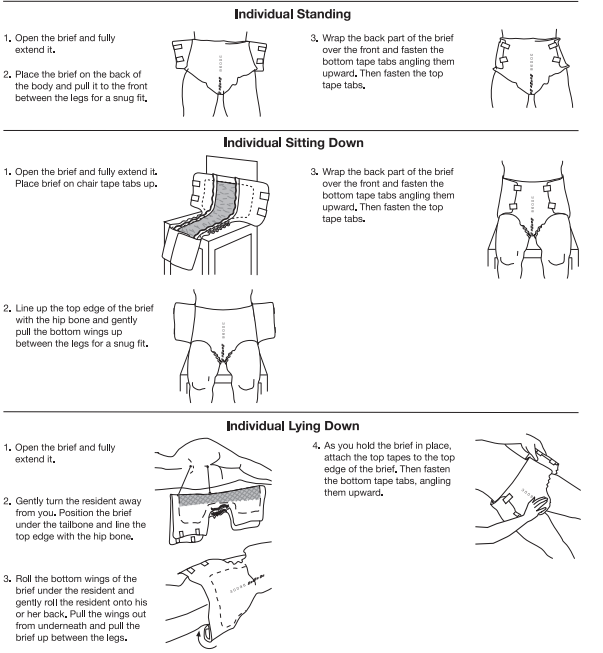 Proper fit is critical to ensuring optimal usage and benefits of any incontinence products. Disposable briefs and underwear should fit snugly, in the crotch area without any gaps around the legs. In addition to providing comfort, a well-fitted brief also mitigates the risk of leakage and minimizes the risk of exposure to a patient's bodily waste.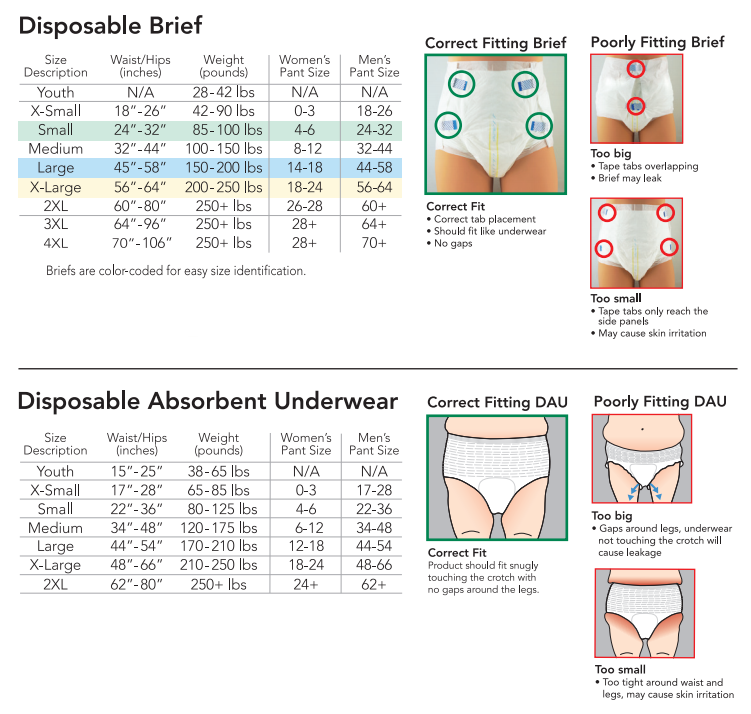 For additional details correct fit and proper changing methods, see our 4 C's of Care video series.
Incontinence Care During COVID-19
Despite the pandemic requiring extra precautions to stay safe, great care does not need to be sacrificed. Equipped with the right knowledge and tools, you should be confident and comfortable caring for your incontinent patients during COVID-19.
For additional facts and clinical support to keep you informed during this turbulent time, click here to visit our COVID-19 resource portal.