9 Tips for Finding the Best Women's Diapers to Stay Dry & Confident All Day
June 14, 2023
By Hayley Milne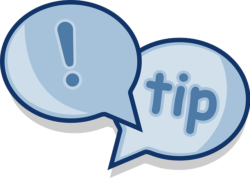 Adult diapers are often a part of everyday life, and they don't have to be embarrassing. In fact, there are many high-quality incontinence underwear options for adults out there to help keep skin dry and help you feel confident while managing incontinence. This includes options that are discreet, comfortable and feel close to "regular" underwear.
While adult diapers can be expensive with high prices, with a little research and some trial and error, you'll find the right fit for your lifestyle – and save tons of money in the process! Struggling to find the right adult diaper for you or a person in your care? Finding "the best adult diaper" varies by a person's needs and preferences. Below are nine tips that will help you find the best options on the market today:
Tip #1: Find the Right Adult Diaper Style
There are many different styles of adult diapers, so you'll want to find one that suits your needs and preferences. In general, they fall into two categories: briefs (or tape tab briefs) or disposable underwear (i.e.; pull ups).
Briefs vs Pull Up Diapers
Briefs
Briefs offer a more customized fit and are often preferred for limited-mobility individuals. Briefs have tabs that can be adjusted to provide a perfect snug fit. The tabs can be fastened to create a fit that is as snug as you'd like, based on your personal preferences.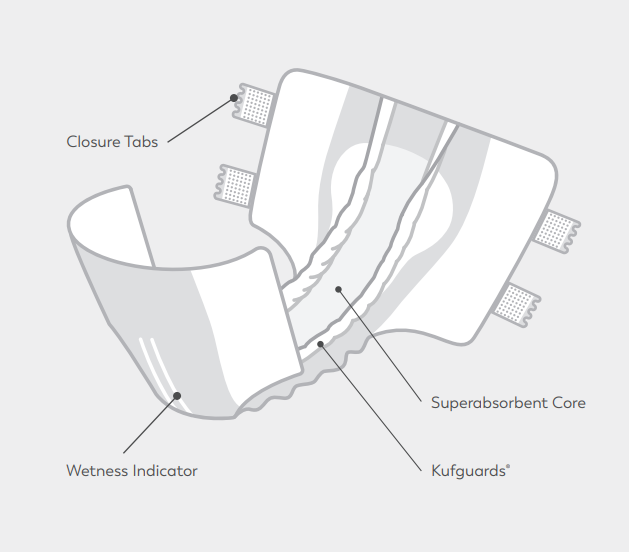 Pull ups
Alternatively, there is disposable absorbent underwear (i.e.; pull ups), which provide more standard sizing and protection. That said, we typically recommend pull up diapers for those active adults. This includes those who are still able to sit, stand and move around on their own without assistance.
Those who prefer the feeling of regular underwear, typically prefer the pull ups style disposable underwear to help manage their incontinence. Tear-away side seams make these easy to remove completely (helpful for a caregiver to remove, or the person who is wearing).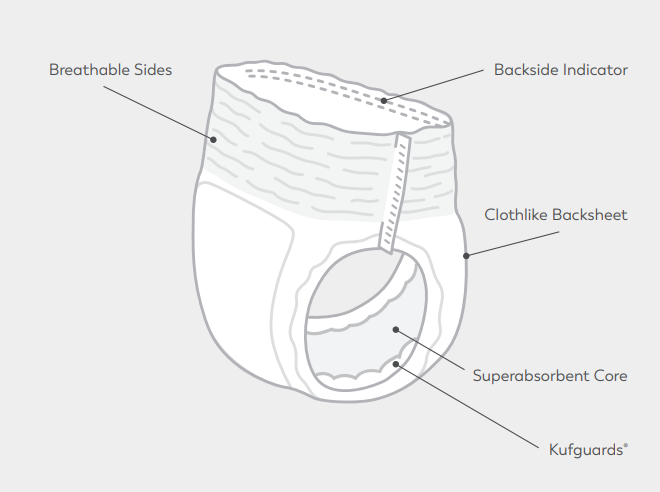 Do Pull Ups or Tape Tab Briefs Offer More Protection?
It is important to note that we offer a variety of pull ups that are equally as absorbent as the tape tab briefs. It is a common misconception that tape-tabs are more absorbent, but this is simply not true. We have briefs and pull up underwear that can hold up to 34 oz of fluid!
That said, it's important to pick which STYLE you like most first, and then you can seek the level of absorbency you need in order to find the best adult diapers for you (or those who you care for).
Tip #2: Pick a Material
After deciding whether disposable underwear or briefs are preferred, consider the material. Do you want an adult diaper with breathable material? How about a cloth-like material, or would a plastic backed material be the right product for your body and preferences?
Here's a quick break-down on the pros and cons of each type of material:
Plastic backed material
Plastic backed adult diapers are sometimes preferred for those who feel more protected having an additional layer of plastic surrounding the outside of the diaper. It is important to note that plastic backed adult diapers and diapers with cloth-like materials are equally as absorbent; it simply comes down to personal preference.
The plastic backed material is more likely to make a "rustling" noise when moving, standing, walking, etc.
Cloth-like material
Also known as "cotton like fabric," this type of material is the most similar to what is found in traditional underwear. It is soft to the touch and has a fair amount of stretch.
There is no "rustling" noise with these adult diapers, so many individuals prefer cotton like fabric because it allows them to wear incontinence protection discreetly.
Breathable material
Breathable materials allow heat and humidity to escape and air to circulate. This is especially important where skin can fold (i.e.; underneath breasts, between fat folds, etc.) and trap in damaging heat and moisture.
Many with sensitive skin prefer the breathable material.
Tip #3: Find the Right Absorbency
Also consider the absorbency level you need. Do you require heavy absorbency from your healthcare products? Do you need a super absorbent core for max absorbency? Make sure you're not overpaying for more protection than you need (for example: buying max absorbency briefs when you may only need moderate to prevent wetness and leaks). Check and see what the stated liquid capacity and total absorbency of the adult diaper is from the brand.
Most big box stores have products that are intended for light incontinence.
For heavy incontinence, you may need to shop online or through a local direct medical equipment supplier. Most manufactures, like Tranquility, have a "Where to Buy" page that shows where you can purchase their products.

Which Adult Diapers are the Most Absorbent?
While we test our own brand against competitors, we can only really speak to the current offerings that we have at Tranquility, especially as the competitive landscape is constantly evolving.
We pride ourselves on offering some of the most absorbent adult diapers available on the market. We specialize in incontinence products for those who have moderate to severe urinary and/or fecal incontinence. This includes overflow, reflex and functional incontinence. In order from least-to-most severe forms, here is a short description of what each of those types of incontinence means:
Overflow Incontinence
Overflow incontinence is best described as involuntary urination. The bladder muscles are unable to contain urine under pressure. People with this level of incontinence have a nearly constant feeling that they are unable to empty their bladder completely.
Reflex Incontinence
Reflex Incontinence is involuntary urination without the sensation of a full bladder. People with this type of incontinence are unaware of the need to urinate.
Functional Incontinence
Functional Incontinence is the inability to get to the bathroom fast enough due to mobility or cognitive impairments. This includes those with developmental disabilities, advanced dementias and folks who have limited-to-no mobility, which could be due to a large multitude of reasons.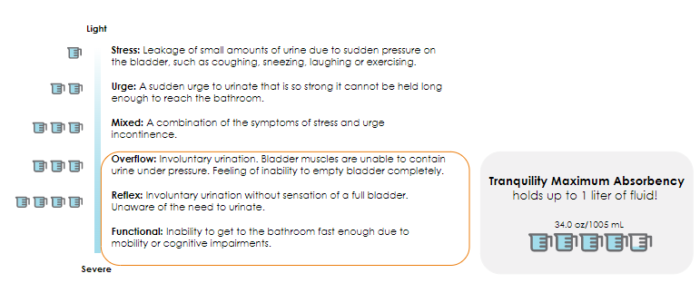 Absorbent Options from Tranquility Products
If you're seeking one of the most absorbent adult diapers on the market for heavy incontinence, look no further than either the Tranquility® Premium OverNight™ Disposable "pull ups" style underwear, or our Tranquility® SmartCore® Briefs. Both hold up to 34 oz of fluid, work for urinary or fecal incontinence, keep skin dry and offer odor control.
Tranquility Premium Overnight Disposable
Prefer a style that feels the most like normal underwear and offers major absorbency? Check out this adult diaper – our premium OverNight disposable absorbent underwear are our #1 best-selling pull up diapers.
For those needing super absorbent adult diapers or overnight adult diapers, this is game-changer.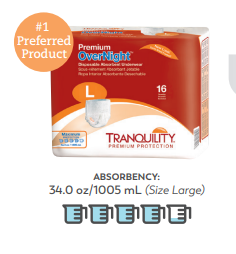 Your premium sleep experience includes clothlike material that is gentle against your skin and quiet when you move, with a moisture-proof backing that ensures fluid will not leak through. Sleep all through the night without worries of leaks!
Yes, Tranquility Premium OverNight Underwear give you maximum protection for leak-free nights – we guarantee it!
The premium OverNight disposable absorbent pull up underwear start by keeping you dry with unique Kufguards® leg cuffs (also referred to as "leg gathers") that guide urine to the core for rapid absorbency.
Fluid is quickly absorbed into a carefully designed, premium superabsorbent core that holds and locks in up to 34 oz of urine, even when you are lying down, for full overnight protection. For reference, the average adult releases 8-12 oz, or 1-1.5 cups, when they urinate.
Most importantly, the fluid stays in the core and will not be squeezed out, even if you move around in your sleep – allowing you a quality night of rest.
These disposable diapers feature breathable sides to help keep your skin dry by allowing heat and humidity to escape and air to flow in and out.
The overnight disposable absorbent underwear have soft leg elastics combined with a form-fitting elastic waistband to create a secure fit.
In the morning, just pull off the product like regular underwear, or if needed, use the tear-away side seams for easy removal. Great for those with sensitive skin – say goodbye to skin irritation!
A wetness indicator lets wearers know when it's time to change.
Tranquility smartcore briefs
Tranquility SmartCore Briefs are the smart choice for superior leakage control, odor control and keeping skin healthy. They feature comfortable, uniquely designed Kufguards® leg cuffs to keep you leak-free by guiding urine and fecal loss into the premium superabsorbent core, which can hold and lock in up to 34 oz of fluid.
(Again, for reference, the average adult releases 8-12 oz, or 1-1.5 cups, when they urinate).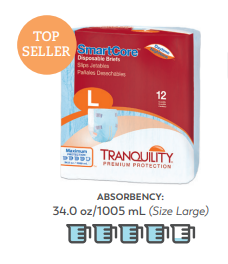 Fluid stays in the core and will not be squeezed out when you sit or stand up. Protects your skin from damaging moisture with breathable sides that allow heat and humidity to escape.
Plus, SmartCore Briefs are comfortable for extended wear, with four adjustable tabs that can be opened and re-closed to give you a snug fit and make it easy to check before changing.
These briefs also give you a sense of security with soft elastics around your legs that stop leaks. The clothlike material is gentle against your skin and quiet when you move, with a moisture-proof backing that ensures fluid will not leak through.
A wetness indicator makes it easy and convenient to know when a change is needed, to protect your skin. These also feature easy removal as one simply needs to unfasten the tabs and pull away from the body.
Tip #4: Consider How Adult Diapers Fit
You'll also want to consider the fit of disposable underwear for the highest absorbency potential.
If your pull on style diaper or brief is too tight around the legs, the diaper may cause unnecessary discomfort. On the other hand, if your disposable underwear is too large or too loose, it could mean that you are wearing a larger size than what works for you and could cause fluid leakage at night.
You want a secure fit that is comfortable, providing you the absorbency you need. Measure your waist and your hips. If your waist is larger, use that as your primary measurement. If your hips are larger, use that number.
For example, if you have a medium waist and XL hips, you would use XL as your size to get the right size adult diaper.
It is also important to pick an option with leg cuffs that help contain urinary and fecal voids. The leg cuffs should be soft and comfortable.
What sizes do adult diapers come in?
Adult diaper size ranges are quite vast in order to fit any and all body types. Tranquility offers youth sizes all the way up to 5XL adult bariatric briefs which can fit a 108″ waist.
Tip #5: Try Before You Buy
If you're unsure about sizing for this reason, try on a few different pairs of adult briefs or pull ups style underwear before buying a pack – and don't be afraid to ask someone in-store or online for help!
Adult women incontinence is more common than you think – so there is no need to be shy asking, especially when it's for your health and wellness!
Try Tranquility for Free
You can try a free sample of a Tranquility product when you fill out our Free Sample Survey! All you need to do is provide your shipping address and a bit of information about your incontinence, and we'll send you a sample of any product you'd like to try at no cost.
If you're having trouble deciding which product may be best for you, or if you'd like to try more than one size, please call our customer support team at 1-866-865-6101.
Our trained incontinence experts will be able to help you find the best product for your unique needs. We strongly believe we have the best adult diapers and want to offer you your first Tranquility sample for free!
Tip #6: Read Online Ratings and Reviews
Once you've narrowed down your options to the top 5 or so brands, take a look at how their products are rated by women customers dealing with adult incontinence night and day.
The best way to do this is to visit an adult diaper product's page on Amazon and scroll down until you see reviews on the adult diaper you're exploring.
If there aren't many reviews, check out other websites that sell adult incontinence products for women – we recommend checking out Target's and Walmart's websites as well as blogs written by women with incontinence seeking maximum absorbency.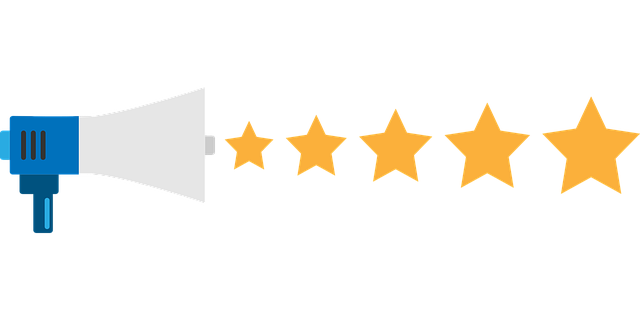 It's important that you read all of the reviews before deciding which adult brief or absorbent adult diaper "pull up underwear" is right for you; some women might love using one underwear brand but hate using another because they have sensitive skin or prefer organic cotton diapers over conventional ones – so don't make any assumptions!
If allergies are a concern, you can also check if absorbent underwear brands are latex free (all Tranquility products are latex free)and also dermatologically tested.
Look for women talking about how it feels under clothing, if it helps with odor, how it performs at night, and how it offers protection from leaks. You can learn a lot from others' reviews and real-life experiences dealing with adult incontinence!
Without being in the right adult diaper, wearers can develop urinary tract infections, skin breakdown, diaper rash and other negative health conditions. It's extremely important to pick a product that offers enough absorbency and is gentle against skin.
What Are People Saying About Tranquility?
Great question! Check out our Amazon listing for our OverNight diapers.
We love hearing wearers' stories! From helping eliminate diaper rash to allowing wearers to sleep all through the night and giving others peace of mind – these are the stories that keep us excited about what we do and the products we offer!
Tip #7: Always Look for a Guarantee
Many companies offer a money-back guarantee for adult diapers. Others may call it a maximum absorbency guarantee. This is a great way to make sure the product offers protection that works both day and night before making a purchase. You may have to pay shipping, but it is smart to ensure that incontinence products are made out of a comfortable material and also retain fluids.
You don't want to be stuck with a case of product that causes diaper rash or has itchy inner leg cuffs that allow leaks. Product guarantees protect you from wasting money on an item that doesn't fit your needs.
Tip #8: Take Advantage of Trial Programs for Adult Diapers
As you consider which adult diapers to buy and in what absorbency, it's important to look for reliable brands.
There are many different companies that make incontinence products you can use for bladder or bowel incontinence, heavy urinary incontinence and odor control.
Tranquility offers free 2-pack samples to customers who would like to try a new product, or try a different size before committing to a full-size bag or case.
Not all of them are created equally!
Some incontinence companies have a good reputation; others have less-than-stellar reputations. It is also important to consider the shipping and return policy of the company so that if something goes wrong with your order (like an unexpected allergic reaction to a pack of XL incontinence underwear), then you won't be stuck with unsellable items.
Tip #9: Research the Company's Values and Mission
Your last step when finding the best adult diapers is to do research on the company's values and mission.
Look for a company that is transparent about its mission.

What are they trying to accomplish?
What do they believe in?
Do they support women?
Fair prices?
Do they care about the environment?
Now that you know what to look for in women's adult diapers, it's time to take action!
Finding the right incontinence underwear is a crucial step on your journey toward becoming more confident and comfortable, so don't shy away from all the options available today.
From online reviews to trial programs for women underwear and more, there are plenty of resources out there to help make your search easier.
The best adult diapers are out there for you! Start today out with a free sample of Tranquility.
Try Tranquility
If you have moderate incontinence or heavy incontinence, you can count on Tranquility for maximum protection.
All of our products feature an absorbent core that assists with odor control and keeps skin dry for those who have urinary and fecal incontinence (it's normal to have one or the other, or both!).
We offer adult diapers in tape tab brief styles and pull up underwear styles. All of our products are latex free and have our superabsorbent core that helps prevent leaks and absorb urine and fluids.
Try your first sample on us today!
Need Help?
Need additional help finding the right product for you?
Call our Customer Care Team for support. Our trained incontinence experts will assist in helping you find the top adult diapers for your individual needs.
Call us at: 1-866-865-6101
---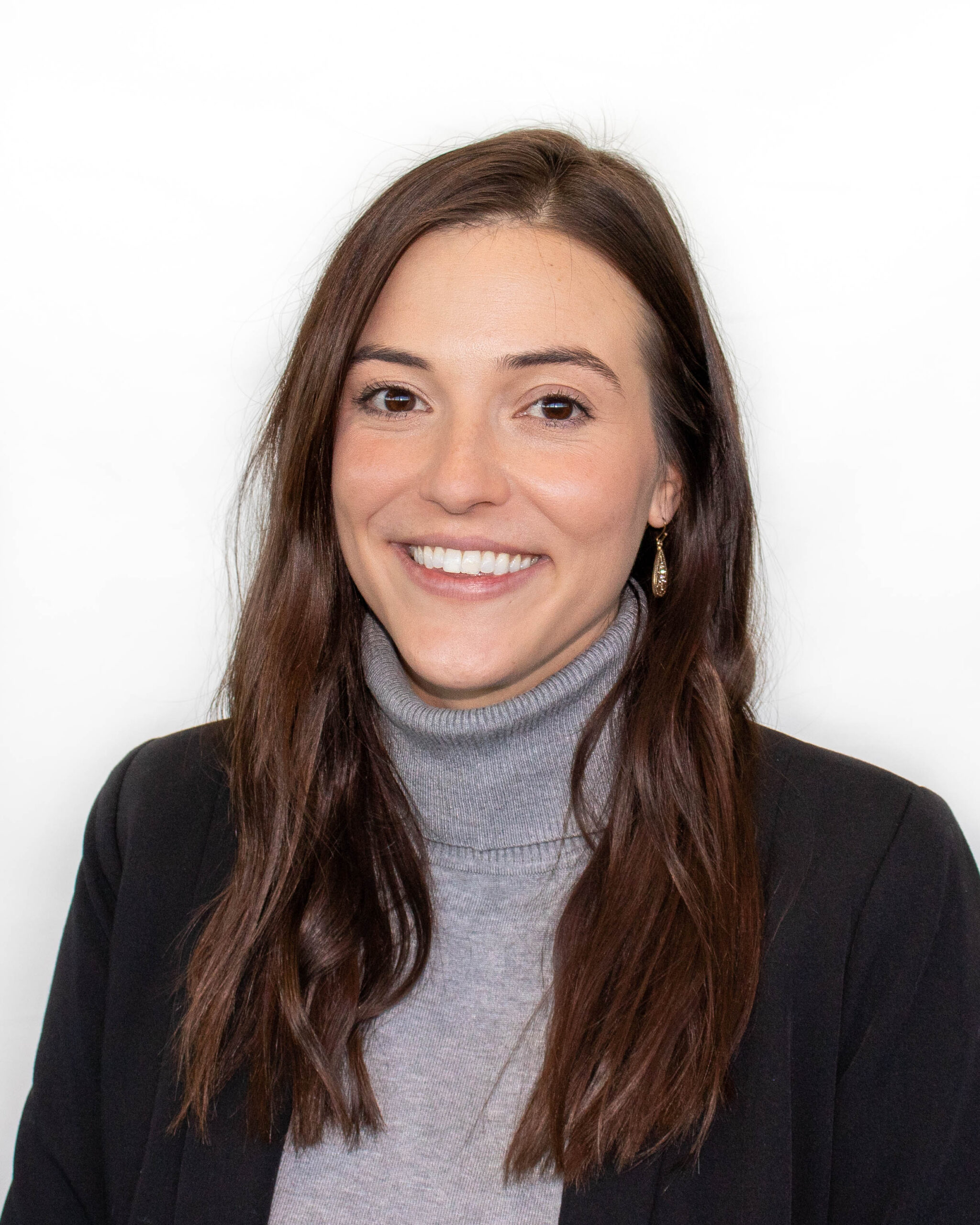 Hayley Milne
Hayley is a Brand Supervisor for Consumer Marketing at Principle Business Enterprises, parent company of Tranquility Brand Continence Care Products. She has 10+ years of experience leading tactical integration of business objectives and guiding creative execution. She is passionate about brand and customer experience.
For more information or questions about this article, please call 1-419-352-1551 or email CustomerService@pbenet.com.
Related Posts: