Reduce Healthcare-Acquired Infections
December 7, 2020
By Nathan Sheffer
Incontinence Care Practices and The Impact on HAI
By: Judy Borcherdt, RN, BSN, CWCMS and Linsee Nungester, LPN
Average time to read: 6 minutes
According to the CDC, there are approximately 1.7 million Healthcare-Acquired Infections (HAI) per year.
The most common types of HAI's are:
Urinary Tract Infections (UTI)
Surgical site infections
Lung infections (pneumonia)
Bloodstream infections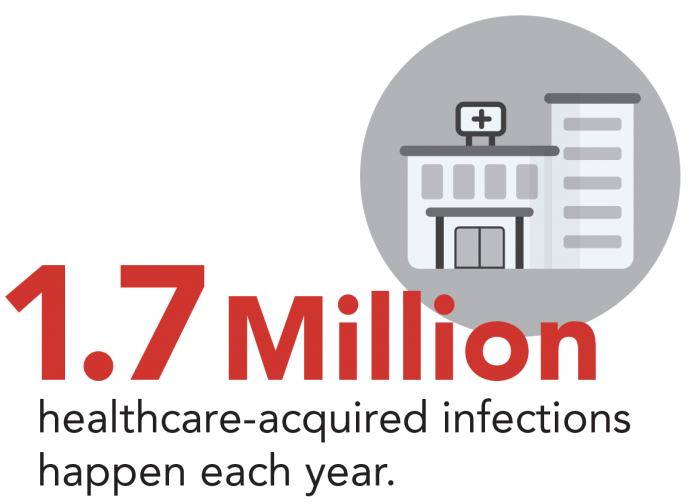 Shockingly, experts claim that 55-70% of HAIs are preventable. With improved practices and measures, healthcare facilities can significantly reduce their HAI impact, resulting in improved patient care, better patient and facility outcomes, fewer re-admissions, and better facility rating.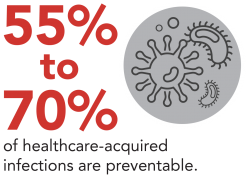 Have you considered how your incontinence care practices impact the health of your patients and care providers?
Healthcare-Acquired Infections Background
HAI is a common medical acronym that is used interchangeably for Healthcare-Acquired Infections and Healthcare-Associated Infections. These infections, also referred to as nosocomial infections, are acquired while receiving care for a medical condition. To be considered a HAI, the infection must not be present before that individual is under hospital care.
Infection prevention (IP) is recognized as the preventing or stopping the spread of infections in healthcare settings. The focus of HIA is typically on eliminating infections that result from medical procedures and devices. While IP primarily focuses on the spread of infections between healthcare patients (infections such as the seasonal flu or COVID-19), these infections remain under the umbrella of HAI. This article will focus on how improved incontinence care can reduce infections from medical procedures and devices and improve facility HAI outcomes.
For more information on how incontinence care can help reduce the spread of infections like COVID-19 and the seasonal flu, check out our article Infection Prevention and Incontinence Care During COVID-19 and Beyond.

Incontinence Care Practices and The Impact on HAI
Of the 1.7 million HAI each year, the most common type of infection is urinary tract infections (UTIs), with roughly 32% (over half a million) of all HAI. While UTIs can have many causes, they often occur within healthcare settings as the result of catheterization for continence management. Incontinence care practices have an impact on HAI as incontinence is generally managed in one of the following three ways:
Catheterization
Open-Air Practice
Absorbent Products
Let's consider how each of these practices can impact HAI and affect patient care, experience, and quality of life.
Catheters for Managing Urinary Incontinence
Catheter use is more commonly seen as a practice for incontinence management and medical procedures in acute care settings. In recent years, healthcare settings have illuminated some of the issues associated with catheter use, specifically high risk of urinary tract infections, difficulty urinating, patient pain, and challenges with sexual function.
Specific attention has been given to CAUTI, Catheter-Associated Urinary Tract Infections, as CAUTI is one of the primary HAI complications. Whenever a foreign object is inserted into the body, and specifically the urinary tract, there is a high risk for bacteria to enter and cause infection. Attention to CAUTI has grown over the past 10 years as patient outcomes and facility resources decrease, and the associated costs continue to rise.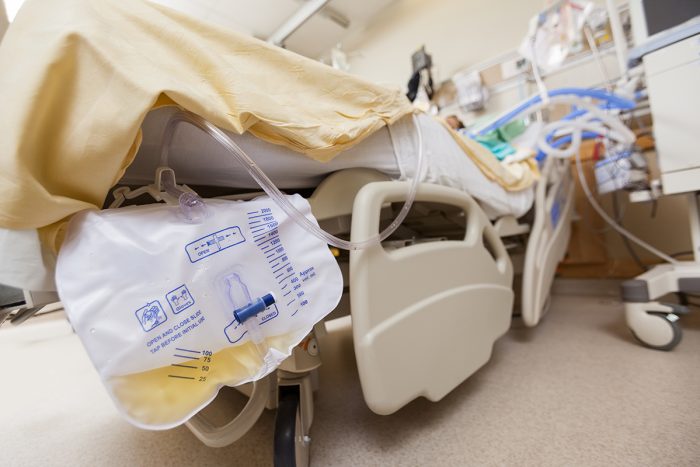 This increased attention is also the result of CMS (Center for Medicare & Medicaid Services) eliminating reimbursements for costs associated with healthcare-acquired CAUTI. According to the Agency for Healthcare Research and Quality (AHRQ), CAUTI results in additional costs of around $1,300 to $1,600 per patient and between $340 and $450 million in total costs across the U.S.
It is important to acknowledge that catheterization may be an easier incontinence/continence management tool for some patients, such as patients who may be immobile or difficult to change. However, the risk of CAUTI and the required ongoing maintenance of the catheter often outweighs the assumed simplicity and convenience of catheter use. It is important for healthcare professionals to first consider what is best for the patient, while following specific facility guidelines, in order to give a holistic consideration for what is best for managing patient outcomes. Improving catheter protocols and eliminating unnecessary catheterization are significant ways to reduce the risk of HAI.
The CDC has explicit recommendations for when catheter use is appropriate and guidelines for preventing CAUTI.
Open-Air Incontinence Management
An alternative incontinence management practice in some healthcare and acute care facilities is the use of "open-air" to manage urinary and/or fecal incontinence. "Open-air" is a practice characterized by the absence of a body worn absorbent product, leaving incontinence patients skin exposed with some type of underpad to catch and contain urine and feces.
While "letting the skin breath" may have certain clinical benefits, it is a questionable practice during this time of heightened IP and HAI concerns. First, the "open-air" practice poses a significant concern for affecting the patient's dignity and quality of life. Open-air may be a preferred option by the healthcare facility or professional but is generally not the preference for the patient receiving care, or their family.
Another concern with the practice of "open-air" for incontinence management, is the risk for transmission of infectious pathogens due to decreased containment of bodily excrement. Containing urine and feces in a body worn absorbent product, such as pull-ons or tape-tab style briefs, is key preventing splash/spray episodes as well as minimizing Moisture-Associated Skin Damage (MASD), like Incontinence-Associated Dermatitis (IAD), which increases the risk for wounds and pressure injuries. Containment of bodily fluids must be a component of incontinence management.
Additionally, contrary to the "open-air" practice, skin health can be maintained and even improved with the right superabsorbent incontinence product. An absorbent brief or pull-on style product that is designed to lock away body fluids and neutralize the pH of urine has been shown to promote an appropriate microclimate for skin health.
Absorbent Products
The third common incontinence care practice in healthcare facilities is the use of absorbent products. Absorbent products are used in many acute care, hospital, and long-term care settings as incontinence management solutions, designed to contain feces and absorb urine.
Absorbent products, also known as incontinence products, became increasingly popular in healthcare in the mid to late 1990's, as the technology improved to allow for more absorbent capacity and improved comfort.
Today, absorbent products remain an important tool for incontinence management. However, not all absorbent products are created equal, and often facilities witness and patients experience poor outcomes as a result of low-quality, low absorbency products. These low-quality products are not representative of all absorbent products.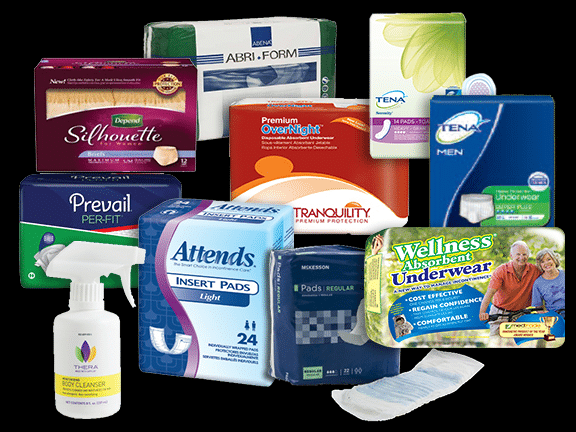 There are superabsorbent products designed with an increased absorbent capacity to contain multiple incontinence episodes, neutralize pH, eliminate odor, and allow extended hours of wear. These superabsorbent products can provide great protection for patients and reduce labor time and costs related to incontinence. Additionally, during this time of heightened awareness around communicable diseases like the seasonal flu and COVID-19, superabsorbent incontinence products can reduce the risk of infection transmission by reducing caregiver exposure time to patients and containing body fluids.
Tranquility Can Reduce the Risk of Healthcare-Acquired Infections
It is important for healthcare facilities and providers to consider incontinence care as part of their infectious prevention (IP) and healthcare-acquired infection (HAI) prevention measures. Tranquility® products can reduce HAI in your facility by significantly reducing the risk of incontinence related conditions including urinary tract infections (UTIs) and Incontinence-Associated Dermatitis (IAD), while improving the skin microclimate to minimize the risk of bed sores and pressure injuries.
If managing CAUTI and/or IAD in your facility is challenging, implementing Tranquility premium incontinence products can help improve your clinical outcomes. The technology and superabsorbent core of Tranquility Products quickly absorb urine (locking it away in the core), neutralize urine pH, and decreases the overall risk of MASD and CAUTI.
Contact us today to experience Tranquility, the most absorbent product on the market. Our products are proven to provide longer wear times, reduce caregiver burden and exposure to patients, and improved patient outcomes. We'd love to talk to you about how Tranquility can improve your infection prevention practices and support your incontinence management program. We would be happy to set up a no-cost clinical trial, support staff education and training, send you free samples, and more.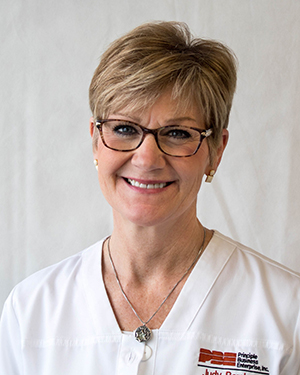 Judy Borcherdt, RN, BSN, CWCMS
Manager of Clinical Services for Principle Business Enterprises
Specializing in Moisture Management and Skin Care Solutions
Email: jborcherdt@pbenet.com
Phone: 567-213-1160