Tranquility® is updating its product lineup!
July 6, 2021
By Nathan Sheffer
Tranquility® is focused on innovating its superabsorbent incontinence solutions to improve quality of life for wearers at-home, caregivers and professional healthcare workers. In 2021, the Tranquility Product Family has continued this commitment by rolling out some exciting new product changes with several goals in mind:
Unify our product brands under the Tranquility name, making it easier for you to choose the right items for your needs.
Enhance our Tranquility Essentials Briefs with new features and superior performance to meet Medicaid requirements, so more people can use them.
What is changing?
The Tranquility Product Family used to have "sub-brands" that included Tranquility, Select®, ComfortCare™ and Swimmates®. Now, our incontinence products will all be under the Tranquility name, so they are easier to recognize:
Tranquility will become Tranquility Premium
Select and ComfortCare will become Tranquility Essential
Swimmates will become part of the Tranquility Specialty category
Our products will also have updated packaging that uses helpful icons to explain product features and benefits. As always, we will make it easy for you to understand exactly how much fluid the product can hold with images of cups – not drops or drips. We stand behind this with our new Real Life Protection Guarantee, which states our products will absorb and contain their stated amount, no matter how much pressure is applied, even when sleeping, sitting or on-the-move.
When is it changing?
Now
Changes to our brief, tab-style products have already taken place:
These new briefs offer superior quality with new features, like a faster absorbing core with increased capacity; Kufguards® to channel fluids into the core; a clothlike backsheet; and a more adjustable fit!
These new briefs offer the same great quality with a faster absorbing core!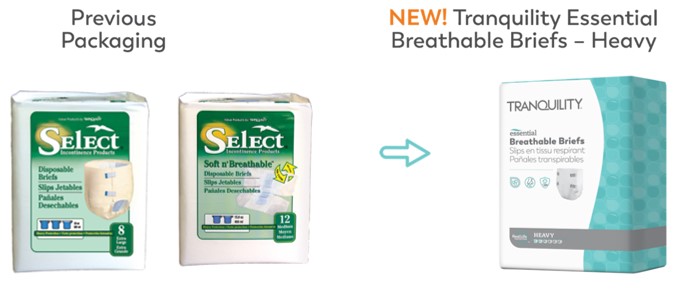 These will have a new name and new packaging, but the item numbers, product features and benefits have not changed.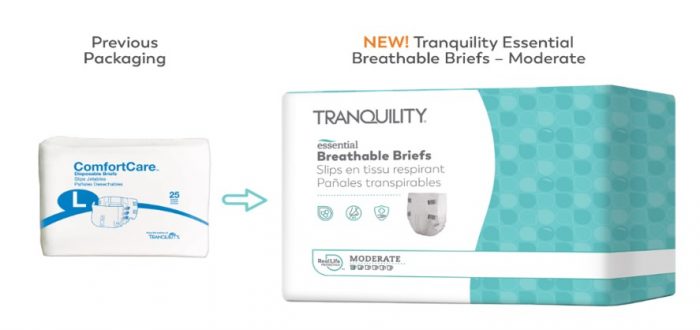 Our disposable, pull-on style underwear will have a new name and packaging beginning in July.
Select Disposable Absorbent Underwear will be renamed Tranquility Essential Underwear – Heavy
ComfortCare Disposable Absorbent Underwear will be renamed Tranquility Essential Underwear – Moderate
Starting in September (tentative)
Select and ComfortCare pads, boosters and underpads will be renamed Tranquility Essential
Use this chart to see how all products will change to Tranquility Essential. As these products are updated, you will be able to purchase a sample to test them out for yourself. Or even better, you can take our short survey and receive a coupon for one free sample pack of your choice!
New options for Medicaid
If you or someone in your care is eligible to receive incontinence care products that are covered through Medicaid, Tranquility may have a new option for you to try. The Tranquility Essential Breathable Briefs – Heavy, which replaced the Select Disposable Briefs and Select Soft n' Breathable Briefs, have been upgraded to meet the highest Medicaid product performance requirements.
The Tranquility team is here to help answer all your Medicaid coverage and product questions!
As the full lineup of Tranquility Products continues transitioning through 2021 and into 2022, our goal will remain the same – providing our wearers and their caregivers freedom from unwanted distractions, so they can focus on what matters most to them – a calm and confident space to live well.