6 Excellent Travel Diapers for Adults
July 31, 2023
By Robert Recker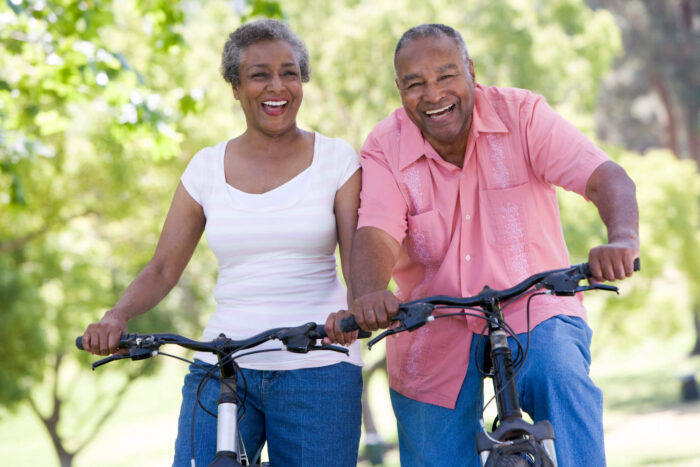 For many people, traveling is a part of their everyday life, whether it is for work or because they want to enjoy adventures and explore new places. Traveling can be stressful enough on its own, and for those who experience incontinence, this may add to the stress of travel. Travelers who experience incontinence may often need to find a bathroom or may find it difficult to leave the house for extended periods of time due to fear of leakage or accidents.
To help ease the anxiety of traveling with incontinence, it is important to find an absorbent product that provides a long wear time with protection from leaks and skin issues. This article will explore six absorbent products that can help you make an informed decision and let you take control of your incontinence during travel periods.
Prior to going on a long trip, you should always consult with your doctor to address any issues that you may be having with incontinence products.
What to Look for in Adult Diapers for Travelers
You can find adult diapers in several different styles. A brief or tab-style product wraps around your legs and waist for a secure fit. Disposable protective underwear can be pulled on and off like regular underwear. Each product style has different features and benefits to provide protection based on your individual needs.
Capacity
The higher the capacity of a product, the potentially longer wear time it will provide for users during their travels. A larger capacity may also give users peace of mind that their product will provide the ample protection and security they need.
The need to change fewer times while traveling also means that you may not need to stop and find a restroom as often, letting you arrive at your destination more quickly, with less travel time.
Comfort
The sense of security from wearing a super absorbent, comfortable disposable adult diaper will let you focus on other things – like enjoying your trip!
Travel diapers are specially made to have a comfortable fit for those long trips in a car, on a plane or other mode of transportation. They come equipped with the absorption levels to help prevent skin irritation and protect from rashes and other skin issues.
Odor control
Traveling often requires you to be in a crowded public space, such as an airport waiting area. If you have concerns over potential odor issues, you should look for incontinence care products that specialize in helping prevent odor. For instance, every Tranquility adult diaper provides Real Life Protection with a super absorbent core that locks in fluid and neutralizes pH in urine to help control potential odor issues.
The 6 Best Travel Diapers for an Adult
Now that you have an idea of what to look for in a great travel diaper, here are six Tranquility absorbent adult diapers that may be right for you.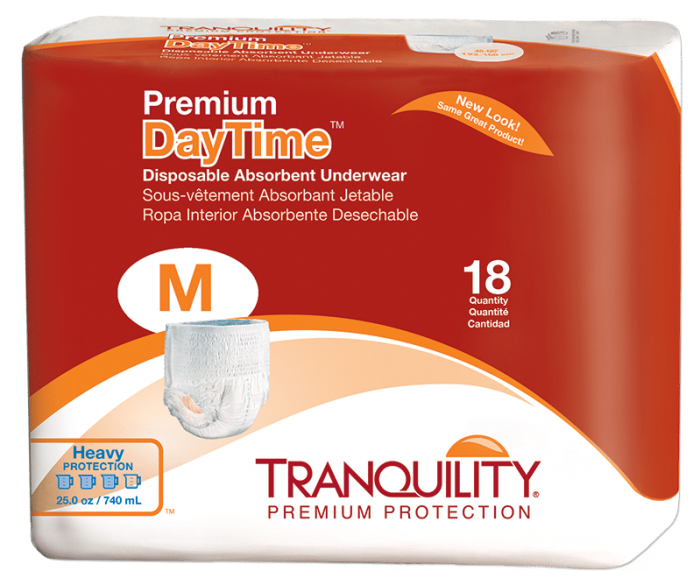 To start we have Tranquility Premium DayTime Underwear. These underwear have the convenience of pull-ons, so the process is quick for getting in and out of the product – it's as simple as putting on regular underwear.
For even easier removal and disposal, this underwear comes equipped with convenient tear-away sides.
Also included with this product is the comfort and security of leg elastics that conform to your body, creating a snug fit around your legs and giving you a sense of assurance.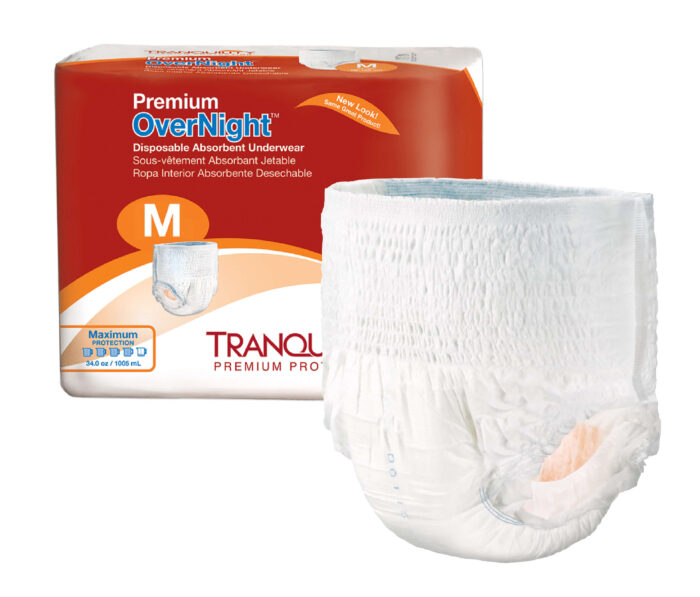 In addition to the DayTime Underwear being able to support you while traveling, another adult diaper option is Tranquility Premium OverNight Underwear. This product offers a lot of the same benefits as DayTime underwear, but has a higher absorbent capacity (up to 34 oz), providing assurance that you will have ample protection throughout the night.
If you need some rest from your travel period and are staying somewhere overnight you can feel safe that this product will be just as or even more absorbent to soak up and retain fluid.
This product adds peace of mind to help you continue on your travel journey. You can participate in any activities for the day and have less to worry about when it comes to accidents.
Our Tranquility underwear has improved the lives of many of our users, enabling them to go about their daily activities without fear of accidents. Below is a testimonial from a caregiver highlighting the difference that changing to Premium OverNight made for them.
"Before we used Tranquility Premium OverNight Underwear, we dealt with constant leakage and wet bedding daily. The many different products sent to us from the Veterans' hospital did not solve our constant problem with bladder incontinence. Then we tried OverNight Underwear and now we are able to leave the house without multiple changes and stops to change products."
Cathleen, caregiver, New Jersey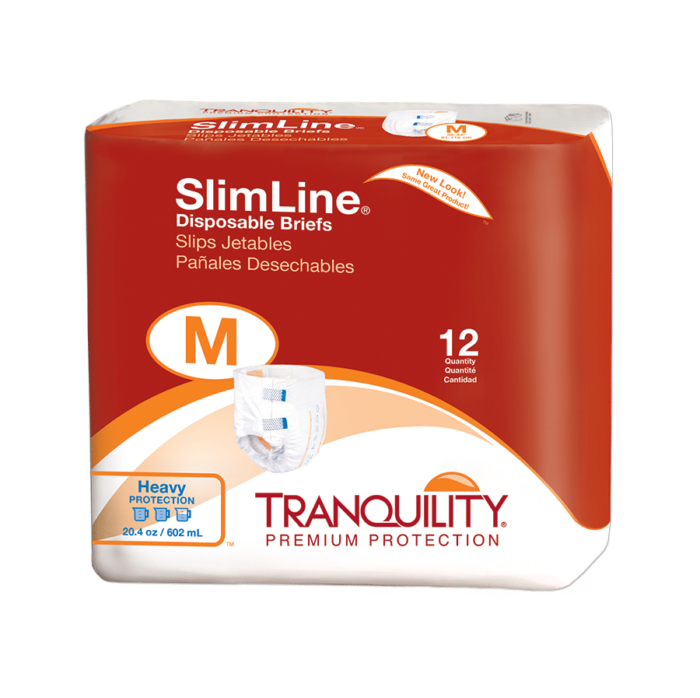 The Tranquility SlimLine is our most bodily-conforming, tape-tab style brief. This product will provide the utmost absorbency as well as comfort for movement while on the go. The SlimLine adult diaper has absorbency so you can carry on with your day. SlimLine briefs have a dual wetness indicator that turns from yellow to blue when moisture is present, eliminating unnecessary changes.
SlimLine incontinence briefs will help to prevent leaks during your daily activities or travel time. The absorbent core will assist with keeping skin dry, reducing any odor and neutralizing the pH in urine to reduce potential rashes or bacterial infection.
The sizing ranges from Youth size with a capacity of 10.2 oz up to an extra large with a capacity of 23.7 oz.
This is one of our more discreet adult diapers, so you do not have to worry about the product being noticeable under your clothing yet still feel assured that you have the protection you need.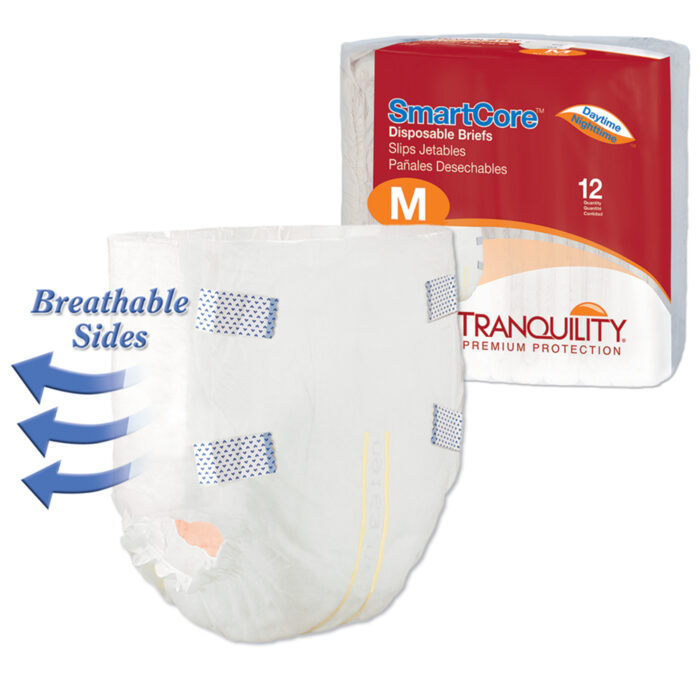 The Tranquility SmartCore incontinence briefs are another disposable product designed with a superabsorbent core to help neutralize odors from urinary incontinence or bowel incontinence. The micro-hook, refastenabletabs attach to the clothlike outer layer to securely fasten the brief and allow for multiple openings. The breathable sides also allow air to flow and help potentially harmful heat and moisture to escape for dryer skin.
SmartCore briefs have a higher capacity, up to 34 oz., to absorb more fluid during use. Due to this higher absorbency level, these briefs typically require fewer changes throughout the day, which reduces the amount of products you need.
Tranquility Essential Breathable Briefs

Moderate

&

Heavy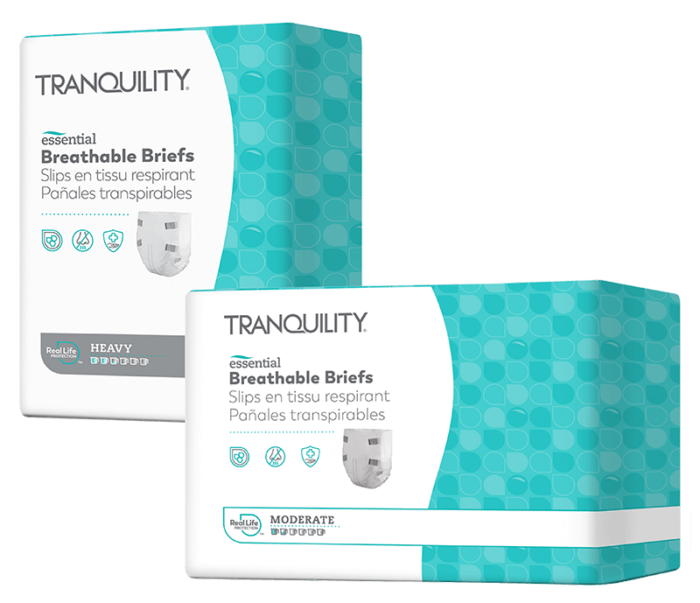 Tranquility Essential Briefs provide reliable protection for moderate to heavy incontinence levels. Breathable Briefs are equipped with reusable tabs offering secure protection where you need it most. These briefs come with a cloth-like backing material for additional comfort.
The Essential Briefs adult diapers are available in both Moderate and Heavy protection. Moderate briefs have a standard capacity of 13.5 oz in sizes M, L and XL. Heavy briefs offer super absorbent capacity of 12 oz up to 23 oz, depending on the size, which ranges from X-Small to 2XL.
Like other Tranquility Essential products, the Breathable Briefs offer solid, reliable protection at a lower price than Tranquility Premium products. This makes them a great option if you or someone in your care receive urinary incontinence products through Medicaid incontinence benefits, state Waiver programs or other reimbursement services.
Tranquility Essential Underwear

Moderate

and

Heavy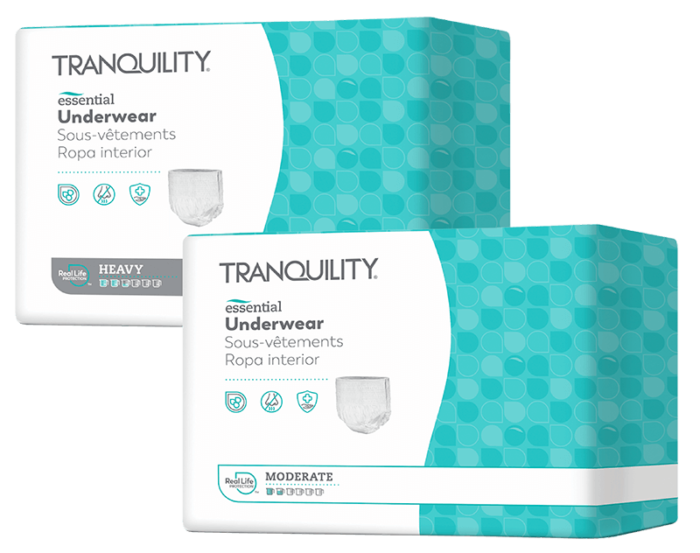 Tranquility Essential Underwear provide reliable protection for all your travel activities. These soft, pull-on style products are also made with cloth-like backing materials that are gentle to help deter diaper rash and quiet under clothing for enhanced discretion.
The Essential Underwear are available in moderate and heavy protection levels. Moderate Underwear range from size Small/Youth to an XL, with a capacity range of 10.1 to 13.5 oz. The Heavy Underwear ranges from Youth Medium to 2XL with 14.5 oz. of capacity for its smallest sizes, increasing to 19 oz for the three largest sizes.
Benefits of the Tranquility Brand
Tranquility adult diaper products and pull ups are latex-free. They are renowned for their super absorbent core that absorbs and locks in fluid, not allowing it to leak out during normal everyday activities like walking, sitting up or lying down. Tranquility briefs and underwear have Kufguard liners that act like tiny guardrails, guiding urine or liquid bowel into the core pad area to be wicked away from the skin.
Tranquility incontinence briefs and incontinence underwear help to manage any level of incontinence needs. Tranquility products absorb and contain fluid no matter the amount of pressure applied. We carefully design and test our products to give you premium absorbent protection that holds up to the true demands of everyday living, so you can focus on the things that matter most.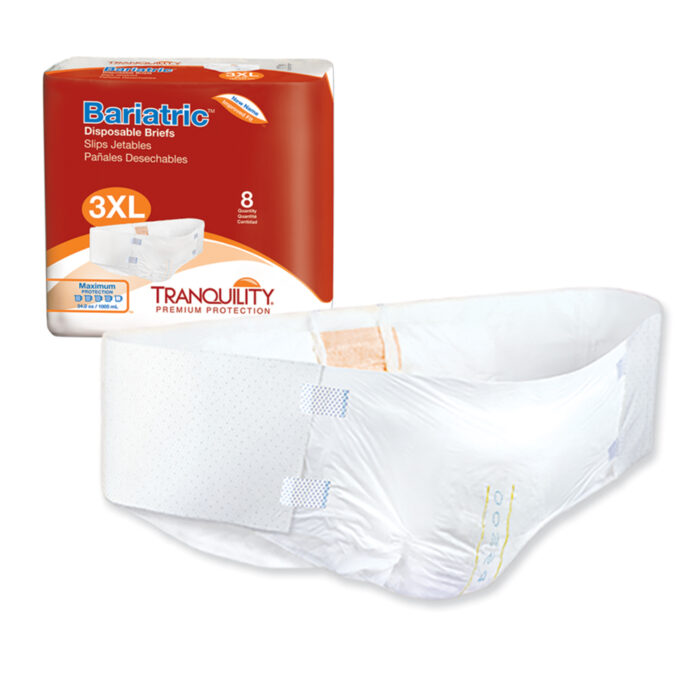 In addition to the diapers mentioned above, Tranquility also has specialty products for those seeking maximum protection and absorbency in a plus-sized option. Tranquility Bariatric briefs are super absorbent adult diapers with refastenable tabs for adjustments. The Tranquility Bariatric diaper comes in 3XL supporting a waist size of 64″-96″ with a total capacity of 34 oz. The Bariatric product also comes in a Hi-Rise brief for extra coverage in the front with added security.
The last bariatric diaper is the Air-Plus Bariatric Brief, which is offered in a size of 4-5XL supporting a waist size range of 70″-108″. This product comes with the same 34 oz capacity as the other bariatric briefs, but features 100% breathable materials throughout, allowing air to flow in and allowing potentially harmful heat and moisture vapor to exit, for the ultimate dry skin experience.
Tranquility vs Big-Box Brands
The range of Tranquility incontinence products listed above offers an overall higher quality of product when compared to the other adult incontinence care options. Tranquility diapers are the best choice for those needing heavy to severe incontinence protection. Users will have the benefit of a comfortable, conforming fit with maximum protection and wear time that can help shorten travel time and allow you to get to your destination more quickly.
Travel Tips while Using Incontinence Products
Here are some tips for traveling if you have incontinence, shared by members of our industry partner, the National Association for Continence.
Pack extra pants or shorts to change into in case of leakage.
Avoid coffee or limit consumption to half a cup.
Bring trash bags along with resealable smaller bags for the disposal of washcloths and underwear.
Pack cleaning wipes or baby wipes to clean the floor, toilet seats, counters or other surfaces in hotels
Bring disposable underpads to protect the mattress in your hotel
Pack detergent pods for spot cleaning of clothing or an in case a load of laundry requires washing
For more tips like these, join and contribute to the active and informative NAFC user message boards.
Conclusion: The Best Tips for Wearing Adult Diapers while Traveling
To summarize, Tranquility offers a wide range of incontinence products for all types of travelers, including the best adult diapers that provide men and women maximum comfort and the necessary absorbent protection. With excellent leakage defense and longer wear times, you will not have to stop for changes as frequently and will not need to carry as many extra incontinence supplies. Many Tranquility adult diapers are designed with clothlike materials that remain quiet under your clothing for discreet wear and added confidence, so you can focus on enjoying your trip!
Contact Us
If you have any questions about finding the best Tranquility incontinence diapers for travel, please feel free to contact us at 1-866-865-6101, Monday-Friday 8 a.m. to 5 p.m. ET, or email CustomerService@pbenet.com, anytime.
Ask how to request a free sample, so you can experience the Tranquility difference, before you order!