Birth Defects and Incontinence – Spotlight on Angelman Syndrome
March 17, 2020
By Josef Halcomb
The month of January recognizes birth defects and highlights awareness for many lesser-known disorders. Feb. 15 shifts our focus to Angelman syndrome, a rare genetic disorder that affects nearly 1 in every 15,000 children at birth. It causes neurological problems, developmental disabilities, and often seizures. Children born with Angelman syndrome can have a wide range of abilities, and each child's experience with Angelman varies. While some children develop the ability to walk and talk, others may not develop these skills. Angelman syndrome affects many aspects of development, from cognitive and emotional development to language and fine motor skills development. Additionally, Angelman syndrome can impact the nervous system and the development of bladder and bowel control, resulting in incontinence.
Identifying Angelman Syndrome
Angelman syndrome is a birth defect typically caused by problems with a gene located in a child's Chromosomes. Most parents are unaware that their child has a disorder, as babies do not show the signs of Angelman syndrome at birth. Parents tend to notice development delays around 6 to 12 months. Signs of Angelman syndrome in infants include:
Lack of crawling or babbling (at 6 to 12 months)
Minimal or no speech development
Difficulty moving, walking, or balancing
As children continue to grow, additional signs and symptoms may become present:
Seizures (usually begin around 2 to 3 years of age)
Small head size, flatness in the back of the head
Stiff or jerky movements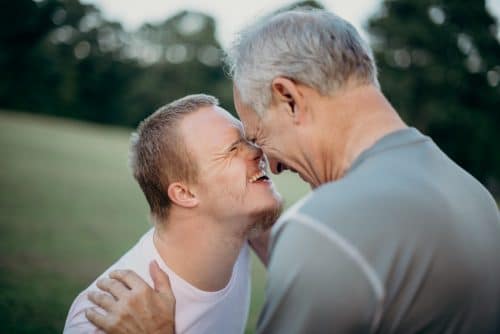 Children with Angelman syndrome have been described with very happy and excitable personalities, along with frequent smiling and laughter. There is also evidence that children with Angelman tend to have an affinity for water and enjoy sensory activities like squeezing, biting, and feeling different materials.
Angelman syndrome can be diagnosed by a doctor through genetic testing. While there is no cure for Angelman syndrome, children with the disorder have a similar life expectancy to other children. Watch the video below to learn more about Angelman syndrome and to see what Angelman syndrome looks like.
How Does Incontinence Affect People with Angelman Syndrome?
Angelman syndrome affects each child in different ways. For example, some children develop the ability to walk and talk, while others may not develop those skills. Similarly, due to the effects of the syndrome on the body and development, many children and adults with Angelman syndrome are incontinent. In fact, the rates of incontinence in people with Angelman syndrome is extremely high. One study found that 96% of children with Angelman syndrome experience incontinence. Some children develop bowel and bladder control over time, however, the same study found that 74% of adult participants with Angelman syndrome had incontinence.
With such high rates of incontinence among children and adults with Angelman syndrome, it is important for parents and caregivers to understand incontinence and how their child or care recipient may be impacted by this condition.
Incontinence is the involuntary loss of bladder or bowels. Incontinence is a condition that can affect people of all ages. Adults with various diseases or conditions and children with disabilities are two groups that have a higher risk of experiencing incontinence. There are many treatments for incontinence, and depending on the cause of the incontinence, a doctor may recommend specific treatments. For people with Angelman syndrome, children and adults alike, the most common treatment is managing incontinence with disposable products.
How Tranquility Can Help
Tranquility® Premium Incontinence Products are specifically designed for When Performance Matters Most. We specialize in niche absorbent products for children and adults with incontinence needs. Tranquility helps people properly manage incontinence through superabsorbent products that keep skin dry and eliminate odors. Our products allow for longer wear times and better leak protection, giving parents and caregivers the peace of mind that their child (or care recipient) is comfortable and protected. Plus, for those with Angelman syndrome experiencing sleep challenges, properly managing incontinence overnight with Tranquility will allow your child to obtain their best night sleep possible, allowing you and your child to awake refreshed and ready for the day.
For children with Angelman syndrome and incontinence, transitioning from baby diapers to youth diapers doesn't have to be challenging. While many stores do not offer options for children who have outgrown traditional baby diapers, Tranquility offers a variety of Youth products for growing children. Plus, check out our blog to help you with the transition. Tranquility products are also available under Medicaid benefits in many states and most children with Angelman syndrome can qualify for free incontiennce supplies. Check out our Guide to Medicaid and Incontinence to learn more about Medicaid coverage for incontience supplies.
A family in Arizona recently shared how Tranquility Products have helped improve the lives of their son, David, and their own life, with better incontinence care.
"Our son, David, was born with a rare genetic disorder called Angelman Syndrome. David is 26 years old, yet cannot tend to his daily hygiene, thus he uses Tranquility SlimLine briefs. These briefs make changing him faster and easier, yet keeps moisture away from his body. Tranquility products have made David's life and ours comfortable once again. Thank you for creating such a wonderful product." – J.G., Mother and Caregiver, Arizona.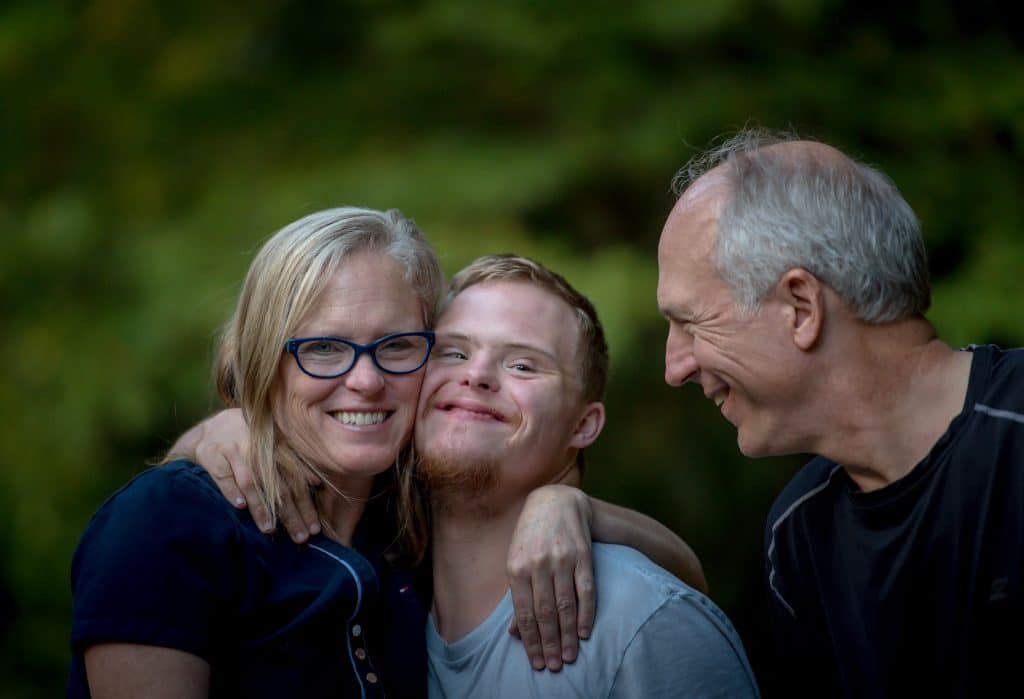 If your child or care recipient has Angelman syndrome and is struggling with incontinence, trust Tranquility to help make life comfortable again. Contact us to receive product samples, learn from an Incontinence Specialist, and more. The Tranquility Care Center is open Monday – Friday 8 a.m. to 5 p.m. EST and can be reached by calling 1-866-865-6101 or by email at customerservice@pbenet.com.