Diagnosing Stress Incontinence
May 24, 2023
By Robert Recker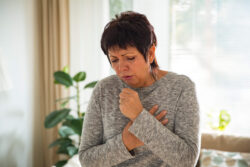 What is stress urinary incontinence?
When you think of stress, you might automatically think of psychological stress, anxiety and worry caused by something that troubles you. According to the NAFC (National Association for Continence), there's definitely a link between emotional stress (fear, apprehension, etc.) and what might be coming out of your bladder. Psychological stress can cause you to urinate more frequently, too.
But the type of incontinence known as "stress urinary incontinence" actually refers to when the bladder leaks after being put under pressure by regular, everyday activities, such as coughing, laughing, lifting a heavy object, changing positions or exercising.
It's also different from other types of incontinence, such as urge incontinence (also called overactive bladder), which is a sudden need to urinate that is so strong it cannot be held long enough to reach the bathroom.
While stress-type incontinence, overactive bladder and other loss-of-bladder-control situations can be challenging problems, Tranquility makes discreet urinary incontinence products that can protect your skin and help you live without fear of embarrassment.
How is urinary stress type of incontinence diagnosed?
While most adults can hold over 2 cups of urine in their bladders, stress-type incontinence occurs when the bladder muscles get weak or stop working correctly. Weakened pelvic floor muscles have a number of causes: by childbirth in women, prostate surgery in men, injury to the pelvic area for both women and men, certain medicines and more. Sometimes there is no known cause.
Even when the cause is unclear, stress urinary incontinence is not just a symptom of age, but a true medical condition that should be checked out by your physician.
Testing for urinary stress urinary incontinence
The Mayo Clinic's diagnostic page on the stress type of incontinence describes the types of tests that a doctor might use to diagnose urinary incontinence. Some common test types are as follows:
Urinary stress test ─ The doctor will ask you to cough while standing up to see if and how much urine that you leak involuntarily.

Urine sample test ─ The medical professional will look for infection, traces of blood or other abnormalities to eliminate the possibility of an underlying issue.

Measurements of post-void residual urine ─ This test can be done one of two ways:

A catheter is inserted into the bladder to drain the contents so they can be measured.

A specialist uses an ultrasound scan to see an image of your bladder and its contents.

Measuring bladder pressure ─ In a process called cystometry, a catheter is used to fill your bladder slowly with warm fluid. Tests of your bladder leakage are conducted during the filling to check for stress urinary incontinence.
For some patients, the doctor might want to perform other, more involved tests as well. Read the full list on the Mayo Clinic incontinence tests and diagnosis page.
Choosing the right product to manage stress-type incontinence
Tranquility offers several personal care pads to help manage moderate to heavy bladder leakage caused by stress urinary incontinence, overactive bladder symptoms or other types of urine leakage.
No matter what level of absorbency you require, Tranquility offers an incontinence personal care pad that can help.
These fast-absorbing pads are designed to be soft and discreet, with the freedom to wear in your regular underwear. The soft core and two embossed channels direct fluid into the product, providing skin dryness and advanced odor protection technology while protecting delicate skin from the effects of wetness for those with urinary incontinence. Gentle elastics form a cup shape that enables a secure fit.
Personal Care Pad Options
Tranquility Personal Care Pads are available in three levels of absorbency and in three sizes for individual needs:
Super (10.5″ x 5.5″) holds 12.6 oz

Ultimate (13.5″ x 6.5″) holds 15.2 oz

OverNight (16.5″ x 7.5″) holds 16.9 oz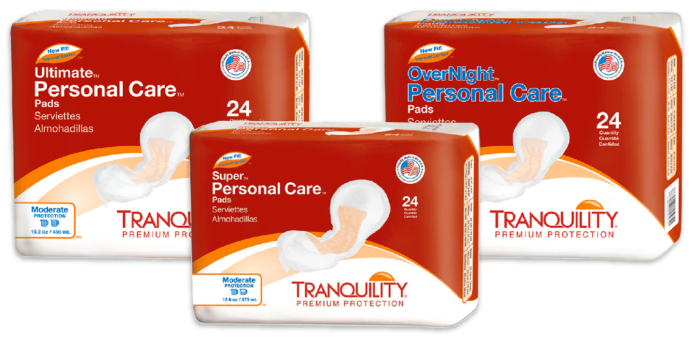 The Super and Ultimate sizes are wrapped individually for hygienic protection.
Offering more absorbency and a larger surface than store-bought pads, these liners give you a sense of security even when managing heavy urinary incontinence. The plastic outer material gives you additional confidence that fluid will not leak through.
The ultra-thin front liner has 24″ x 9″ of coverage and 15.5 oz of absorbent capacity, for enhanced confidence along with the freedom to wear them in your normal underwear.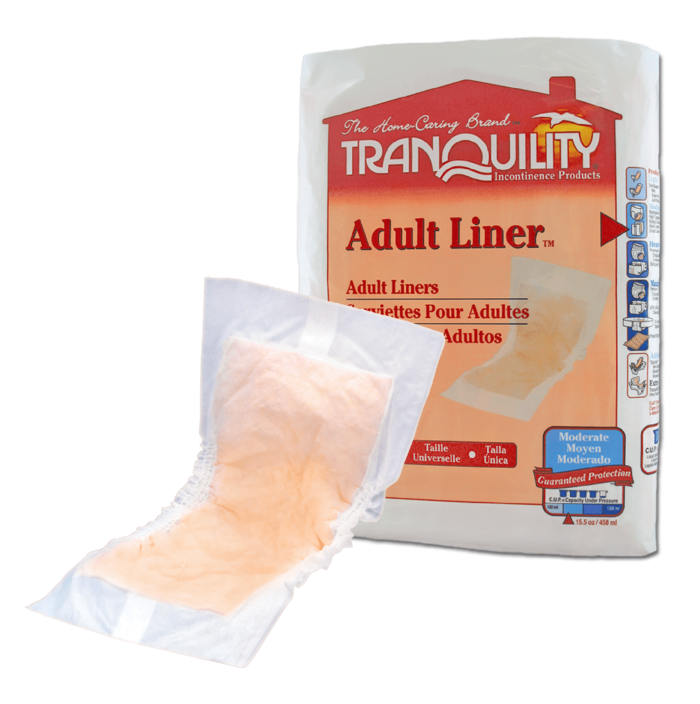 Like all Tranquility superabsorbent products, the core of these pads locks in and retains fluid so it will not be squeezed out when you perform regular everyday activities, keeping your skin dry and healthy.
Tranquility Male Guards offer maximum protection and security, with coverage and comfort where it counts.
Product Features
Gentle side elastics form a cup shape that securely and comfortably moves with the body, creating a barrier against leakage. The soft, absorbent core quickly draws and locks in up to 9.5 oz of fluid, for odor control while protecting sensitive skin from rash and breakdown.
The clothlike, moisture-proof material combined with an adhesive strip allow the guard to be securely worn in snug-fitting underwear, for quiet movement and no uncomfortable sliding, awkward adjusting or leaks.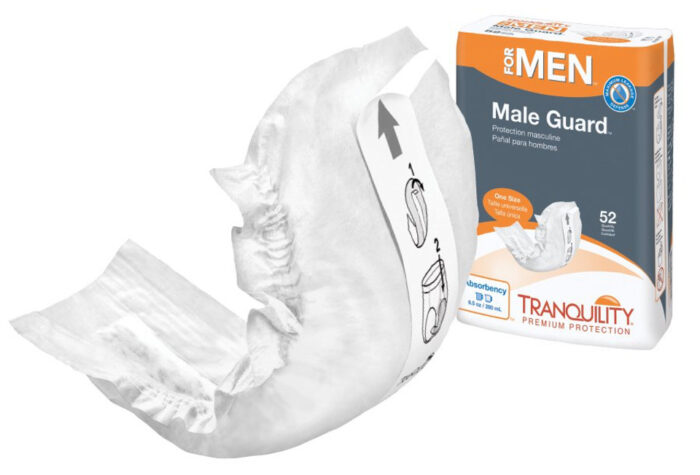 Male Guards can handle the movements of an active lifestyle while providing leakage protection and eliminating urine odors.
Try a Free Sample
Don't let fear interfere with your social life. If you experience stress urinary incontinence, there are products available to help you get back to doing the activities you love.
If you have any questions about finding the best incontinence products to manage stress urinary incontinence through Tranquility, please feel free to contact us today.
Ask how to request a free sample so you can experience the Tranquility difference for yourself, before you order!
Call: 1-866-865-6101, Monday-Friday 8 a.m. to 5 p.m. ET
Email: CustomerService@pbenet.com, anytime
Resources
NAFC ─ https://nafc.org/bhealth-blog/is-stress-contributing-to-your-incontinence/
Mayo Clinic ─ http://www.mayoclinic.org/diseases-conditions/stress-incontinence/basics/tests-diagnosis/con-20027722
Medline Plus ─ https://www.nlm.nih.gov/medlineplus/ency/article/000891.htm
More Tranquility Blogs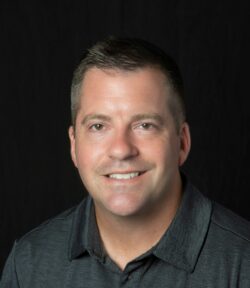 Robert Recker
Robert is a Senior Manager of Content Marketing for Principle Business Enterprises, parent company of Tranquility Brand Continence Care Products. He has 15 years of experience creating online educational content in the healthcare industry, specializing in medical supplies.
For more information or questions about this article, please call 1-419-352-1551 or email CustomerService@pbenet.com.