Surpassing Goals to Benefit Veterans, Caregivers
November 17, 2022
By Robert Recker
From its beginnings, Tranquility® and its parent company, Principle Business Enterprises, have been committed to not only the people who wear our incontinence products, but to the often-overlooked caregivers who stand behind them. This idea is put on full display each November as PBE takes part in a series of community fundraising and awareness activities focused on Family Caregivers Awareness Month, with a specific tie-in to Veterans Day, active and retired service members.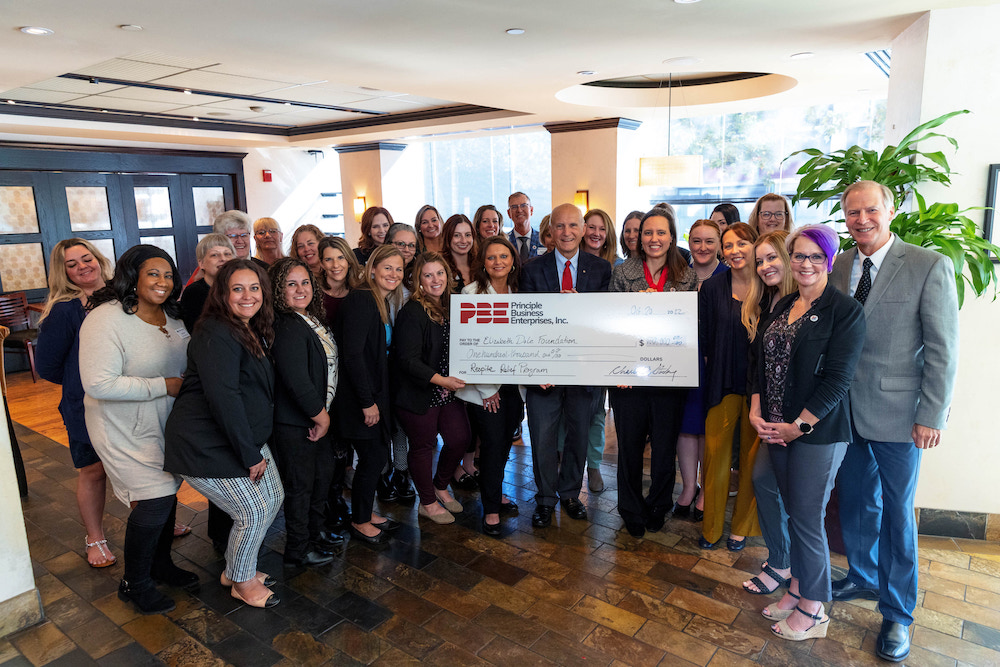 Over the last two years, PBE has expanded its Veterans outreach by teaming up with the Elizabeth Dole Foundation. Since 2012, the group has advocated for Elizabeth Dole's mission to expose the military caregiver crisis and generate critical resources to help these "Hidden Heroes."
This fall, the partnership celebrated a significant milestone as the Foundation nearly doubled its pledge to match a $100,000 grant from the Principle Family Fund, a philanthropic affiliate of PBE created by the Company's founding family. Together, PBE and the Foundation announced that $295,000 had been raised to assist the spouses, parents, children and other family members who work tirelessly to keep Veterans safe and healthy in their home.
Inspired by 'Hidden Heroes'
PBE Board of Directors Chairman Chuck Stocking is often heard telling PBE employees that the company manufactures and innovates Tranquility superabsorbent products with the goal of "becoming the caregiver's best friend."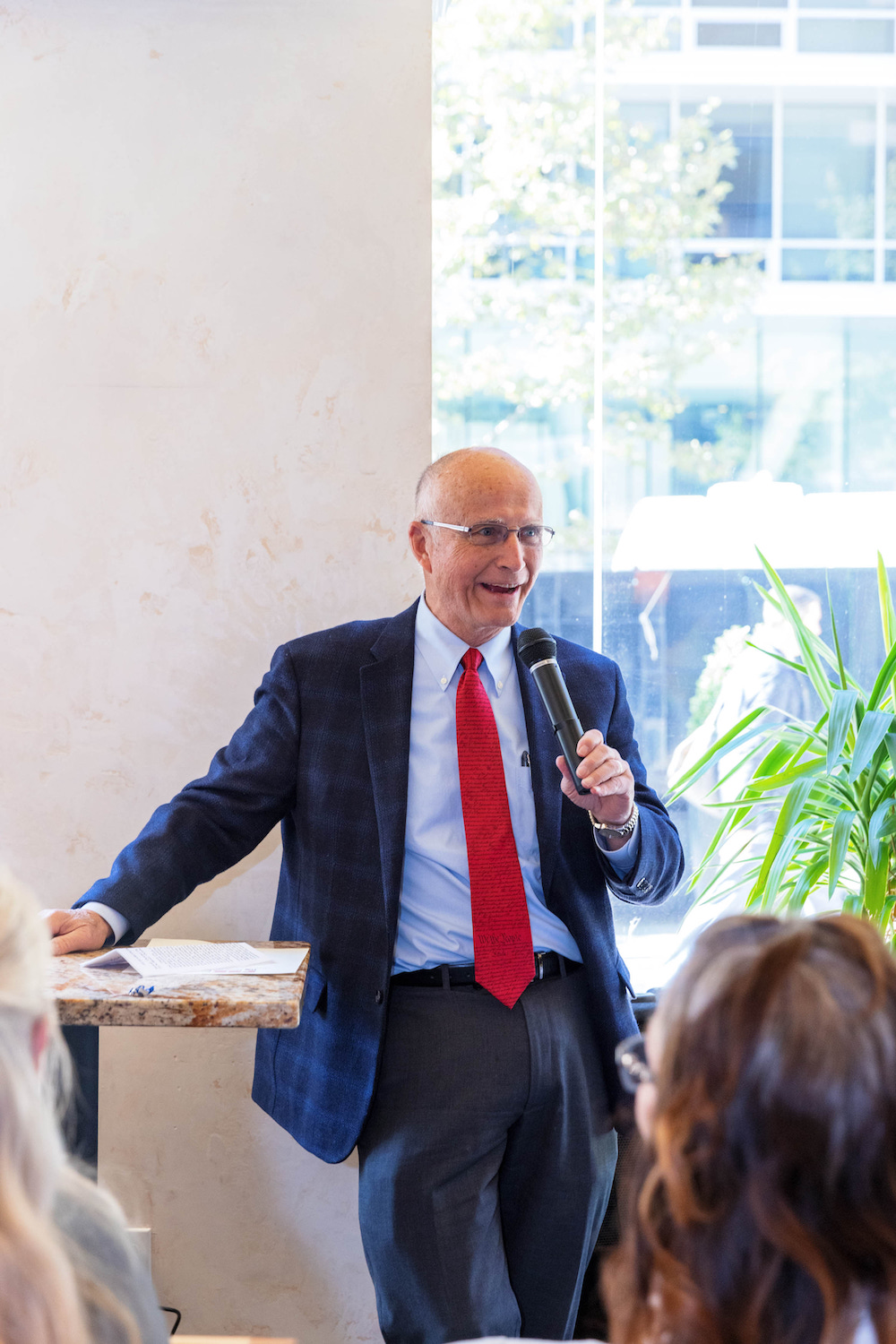 He conveyed this message at a recent luncheon in Washington, D.C., during which he and other PBE leaders presented the $100,000 donation check to the Foundation. In the audience were about 35 members of the Foundation's latest class of Fellows program graduates. These active military and Veteran caregivers are carefully selected each year from across the U.S. to represent the Foundation throughout their communities. Fellows also share their stories directly with national leaders and decision makers within the business, entertainment, faith and nonprofit sectors, to transform the culture of care in our country.
"These Fellows are the front line who know what life is like as a caregiver and understand what the real challenges are," Chuck said. "Connecting with these Hidden Heroes and listening to their personal stories is what drives our mission to innovate and create products to transform the lives of caregivers and recipients of care."
Read this news release for more quotes and details from the luncheon event.
By the numbers: Helping Veterans, their families and caregivers through 'Respite Relief'
According to researchers at Caregiveraction.org, family caregivers provide $375 billion per year in "free" service taking care of older adults at home. That's over twice as much as the $158 billion spent on professional homecare and nursing home services, combined.
For the 5.5 million caregivers who support former or current military personnel in the U.S., their time, energy and resources expended may be even greater. Often, those in their care are contending with long-term military injuries, post-traumatic stress or other complex physical and mental health challenges.
This is where the Respite Relief program comes into play.
The Foundation's flagship service offers family members and other loved ones caring for a Veteran or active service member access to 35 hours of free, short-term relief with the help of in-home care professionals. Many caregivers utilize this time in increments, allowing themselves a few hours at a time to get out of the home for doctor appointments, shopping, running errands or grabbing a meal with friends. It's their chance to take a deep breath and recharge.
"We want to get the word out about the challenges tied to caregiving, the lack of support these individuals receive, and awareness required to have caregivers understand that it's okay to take a break," said Angie Williams, PBE Vice President of Marketing.
Watch this touching video of Foundation Fellow and Hidden Hero Rob Grier Jr., describing how he has benefitted from Respite Relief and related programs.
"The Dole Foundation has just been an amazing resource for me," said Rob, a caretaker for his father and service-disabled Air Force Veteran, Robert Sr. "I was able to find a whole group of people and felt a [sense of] belonging by talking to other caregivers who are going through similar issues as me."
Thanks to fundraising and awareness efforts of PBE and other organizations, the Foundation expects to directly assist nearly 350 Veterans, their caregivers and family members, while educating thousands more on Respite Relief and other Veterans care services available.
Longstanding focus on Veterans and Military
Even before partnering with the Foundation, PBE had a long history of assisting and recognizing military personnel. Each November, Associates celebrate Veterans Week with photo displays honoring employees and their family members in the service, and by donating new and crafted items for a Silent Auction. Money raised has provided local Veterans with equine therapy, assistance dogs, indigent nursing home lodging and care packages for troops.
PBE also focuses on making Tranquility Products available to Veterans institutions, with distribution to over 70% of VA facilities nationwide. More than 500,000 Veterans receiving care through the VA experience moderate to severe incontinence; with a qualified diagnosis, they can receive Tranquility products free through their VA prescription benefits.
To help find the right products for their individual needs, Veterans or their caregivers can request a free Tranquility sample kit. If you are a Veteran learning to deal with incontinence, know that you are not alone – help is available. Learn more.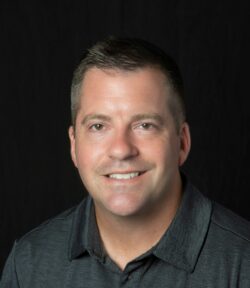 Robert Recker
Robert is a Senior Manager of Content Marketing for Principle Business Enterprises, parent company of Tranquility Brand Continence Care Products. He has 15 years of experience creating online educational content in the healthcare industry, specializing in medical supplies.
For more information or questions about this article, please call 1-419-352-1551 or email CustomerService@pbenet.com.