The 5 Best Incontinence Pads for Heavy Leakage
May 15, 2023
By Robert Recker
When you think about the term "pads" and how they relate to hygienic care, you may naturally think of menstrual pads, sanitary pads and other personal care products that are primarily used by women. Incontinence pads and incontinence liners are a different type of absorbent care product used to absorb urine, and are available in many styles and capacity levels. Incontinence pads are used by men and women, and are typically designed to provide protection against light to moderate bladder leakage.
In this article, we will explore "regular" capacity incontinence pads and incontinence liners as well as more absorbent, higher-capacity incontinence pads that, unlike most menstrual pads, can help you manage heavy to severe urinary incontinence. We will explain the difference between personal care incontinence pads and "booster" incontinence pads.
Finally, we will touch on products that can even protect your skin, clothing and furniture against leaks resulting from fecal incontinence or loss of bowel control.
Along the way, we will list the 5 best incontinence pads offered by Tranquility.
What to look for
Incontinence pads are designed to be worn discreetly inside of your normal underwear. They may also be called "guards" (especially men's incontinence pads) or sometimes referred to as "incontinence liners" in that they line the underwear fabric as a discreet layer of protection against bladder leakage.
Incontinence protective pads typically have an adhesive peel strip on the side facing away from your body that fastens to the underwear fabric to keep it from sliding around and causing discomfort or potential leaks.
Other features you may wish to look for in an incontinence pad are soft and breathable material for maximum comfort, and added noise discretion.
Gentle leg elastics will also help the product conform more closely to your body, to give you the best sense of security and coverage.
Some incontinence pads also feature super absorbent polymers with advanced odor control technology that neutralizes pH and inhibits the growth of bacteria.
Capacity is important
Incontinence personal care pads come equipped with an absorbent core of varying capacity levels to help prevent urine leaks and assist with bladder control. The lowest-capacity level of incontinence pad may hold just a few ounces of urine, for those who have very light urinary incontinence and only need a little bit of protective support. These disposable urinary incontinence pads are great for wearers who are on the go, and these pads are made just for day-to-day life.
More absorbent pads built to manage moderate incontinence may hold a little more fluid, perhaps in the 8-12 oz range, while the most absorbent pads designed for heavy protection may absorb up to 20 oz or more of fluid and may help contain bowel incontinence.
What level of protection you need depends on the type of incontinence you experience and the typical amount of urine released when you void. As a point of reference, the average adult urinary void is approximately 8-12 oz.
Three personal care pads for moderate to heavy incontinence
No matter what level of absorbency you require, Tranquility offers an incontinence personal care pad that can help.
These fast-absorbing pads are designed to be soft and discreet, with the freedom to wear in your regular underwear. The soft core and two embossed channels direct fluid into the product, providing skin dryness and advanced odor protection technology while protecting delicate skin from the effects of wetness for those with bladder control challenges. Gentle elastics form a cup shape that enables a secure fit.
Personal Care Pad Options
Tranquility Personal Care Pads are available in three levels of absorbency and in three sizes for individual needs:
Super (10.5″ x 5.5″) holds 12.6 oz
Ultimate (13.5″ x 6.5″) holds 15.2 oz
OverNight (16.5″ x 7.5″) holds 16.9 oz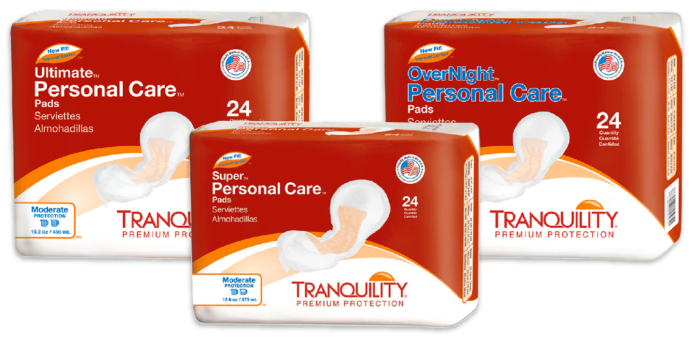 The Super and Ultimate sizes are individually wrapped for hygienic protection.
Offering more absorbency and a larger surface area than retail pads, these liners give you a sense of security for heavy urinary incontinence. For added protection, the plastic outer material gives you confidence that fluid cannot leak through.
The ultra thin front liner has 24″ x 9″ of coverage and 15.5 oz of fluid capacity, for enhanced confidence yet retains the freedom to wear in your regular underwear.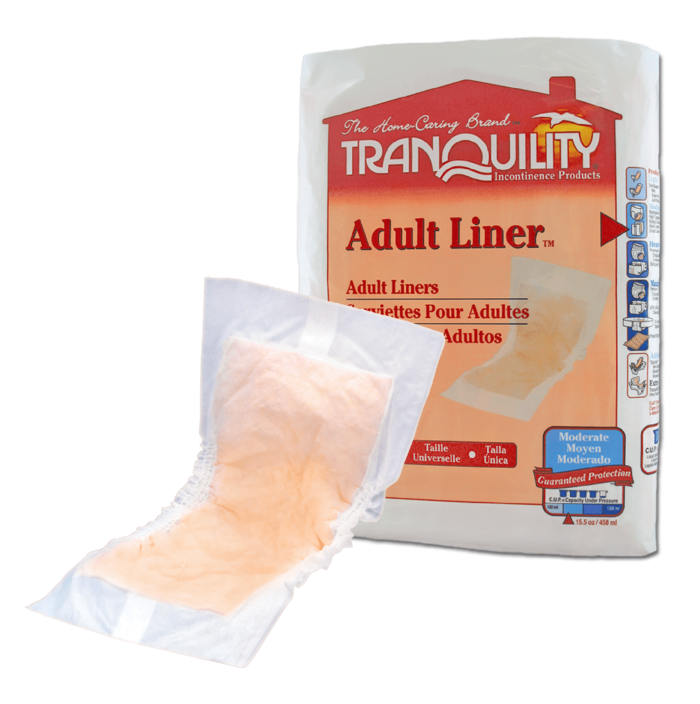 Like all Tranquility superabsorbent products, the core locks in and retains fluid so it will not be squeezed out when you sit, stand up or move around, to keep your skin dry and healthy.
Tranquility Male Guards offer maximum protection and security, with coverage where it counts.
Product Features
Gentle side elastics form a cup shape that securely and comfortably moves with your body, creating a barrier against leakage. The soft, absorbent core quickly draws and locks in up to 9.5 oz of fluid, for odor control and protecting sensitive skin from rash and breakdown.
The clothlike, moisture-proof material combined with an adhesive strip allow the guard to be securely worn in snug-fitting underwear, for quiet, rustle-free movement with no uncomfortable sliding, awkward adjusting or leaks.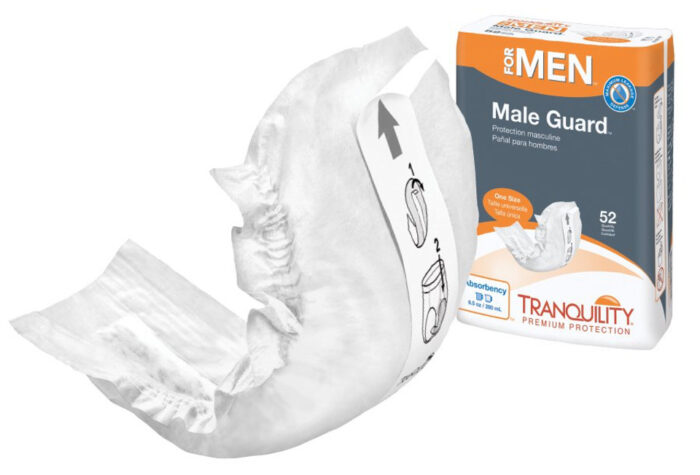 Offering 12.25″ x 5.25″ of coverage area, Male Guards can handle the movements of an active lifestyle while providing leakage protection and eliminating urine odors.
Other factors to consider when looking for incontinence pads
Daytime vs. nighttime protection
All Tranquility incontinence pads can be worn for day and night use, although depending on the sizing some incontinence pads can provide more absorbency levels than others. With the higher absorbency levels offered in the Tranquility incontinence pads, there will be less of a need to change incontinence pads as often, whether you wear them at night or during the daytime.
Disposable pads vs. reusable
Disposable incontinence pads are not the only option for wearers.
For those who wish, there are incontinence pads, liners and undergarments that are washable and can be reused multiple times before needing to be discarded. Reusable incontinence pads may feature multiple layers of cloth, bamboo or other absorbent material for protection against light incontinence leaks.
Unlike one-time-use incontinence pads that typically utilize a self-adherent strip, reusable incontinence pads may stay in place in your underwear using a snap, button or hook-and-loop fastener. Some reusable products are not pads at all, but rather, actual underwear that have an absorbent pad discreetly built into them for utmost privacy.
And of course, reusable incontinence pads reduce the environmental impact, which is very important to some wearers.
For some people, reusable pads may be a good option to help control light to moderate loss of bladder control. On the other hand, for those who need to wear incontinence pads to manage more severe levels of incontinence, reusable products might not provide the absorbency levels they need, which could lead to leaks or the constant need to change the absorbent product.
Also, reusable incontinence pads must be washed in between each use, which may end up being more work than desired.
And finally, when comparing prices, you might find that reusable incontinence pads can be costly, and combined with the additional expense of extra laundering, the overall price may exceed any expected savings.
Personal Care Pads vs. Booster Pads
Up to this point, we have discussed some of the best incontinence pads that fall under the category of personal care pads. Now we will discuss a different kind of incontinence pad called a "booster" pad, because these pads are designed to "boost" the capacity of other disposable incontinence care products.
Think of booster pads as a high-capacity sponge.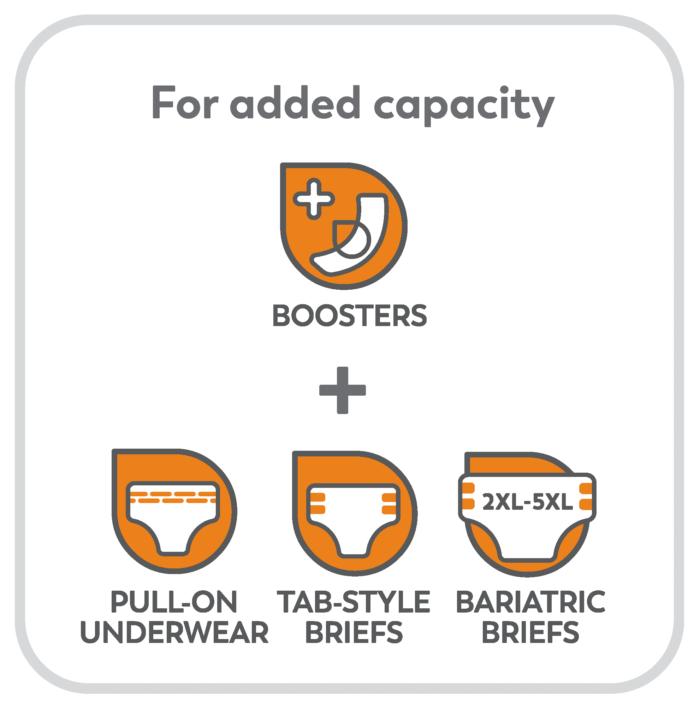 You place the booster pad inside tape-tab disposable adult briefs or pull-on disposable protective underwear you are wearing. When urine hits the booster pad, it absorbs into the pad's core up to a certain capacity, then slowly allows excess fluid to pass through and be captured by the absorbent garment underneath.
This, in essence, could double or triple the total absorbent capacity you would experience if just wearing a disposable incontinence garment or pad by itself. More coverage with the combination of these incontinence products means fewer changes required and longer wear time without disruption. They are very helpful for men and women with heavy bladder leakage to simultaneously control odors and increase absorbency levels.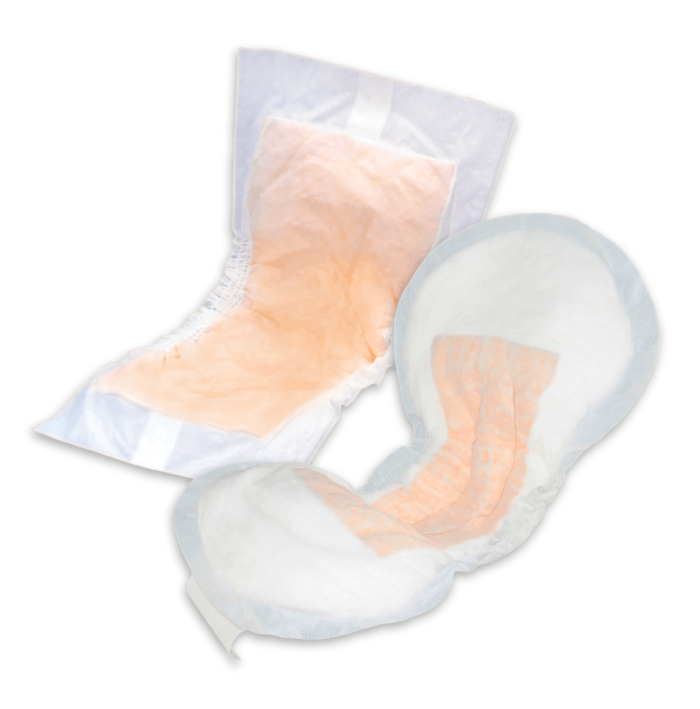 How to Use a Booster Pad
Booster pads are thin and flexible, so they can be folded (or even doubled up) and positioned within the host garment where you need the most protection:
For women, this may be more toward the bottom
For men, it may be more toward the front
At night you might use a booster near the leg hole if you are a side sleeper to ensure overnight protection
Make sure the booster is placed within the boundary of the host garment and is not sticking out, or that could lead to a leak. It's also important to emphasize that boosters should not be cut and should never be worn in regular underwear, as this will likely lead to wet clothing when the booster pad releases excess fluid as it's designed to do.
How a Personal Care Pad is Different Than a Booster Pad
On the flip side, it's also vital to point out that personal care pads should never be worn inside another incontinence product, like a booster pad is used.
Personal care pads have a moisture-proof adhesive backing, so once they fill beyond their capacity, they will not allow excess fluid to pass into the host garment, but rather, they may leak off the side of the pad and out the leg hole of the host garment, causing an accident.
Two best booster pads for moderate to heavy incontinence
As with personal care pads, Tranquility offers a variety of booster pads to match the style and level of absorbent capacity that you desire.
Enjoy an extra line of defense against leaks for longer wear time and fewer changes. TopLiner Booster Pads are ideal for pairing with disposable pull-on underwear or tape-tab briefs, but should not be worn in regular underwear. The clothlike material is gentle against your skin and quiet when you move.
Available in Mini, Regular and Super sizes, TopLiner pads can hold up to 14.2 oz of fluid.

In addition to TopLiner pads, Tranquility offers a larger version that gives you even greater coverage, security and peace of mind – Tranquility TopLiner Booster Contour Pads.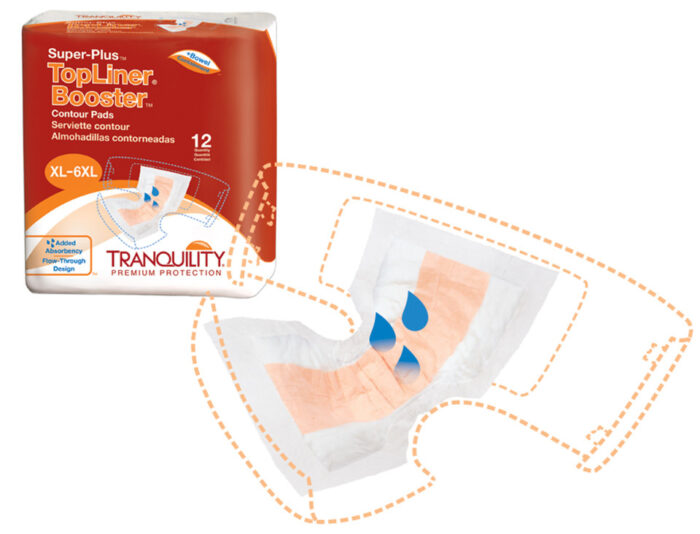 Contour Booster Pads provide even more generous protection for enhanced confidence, with a wider, hourglass shape that contours to your body.
Because of its full-fit 32″ x 14″ design, the Super-Plus size works best with tape-tab briefs and pairs well with bariatric-sized products up to 5XL. The Contour size (21.5″ x 13.5″) pairs best with small to large tape-tab briefs.
When worn inside a host garment (disposable tape-tab brief or pull-on underwear) Essential Booster Pads economically extend the use of the primary garment to help end leaking and rashes, contain heavy leakage and lessen nighttime changes. Heavy pads are available in Youth, Regular and Long sizes that hold up to 8 oz of fluid, while the Moderate Booster Pad comes in Regular size holding up to 5.3 oz.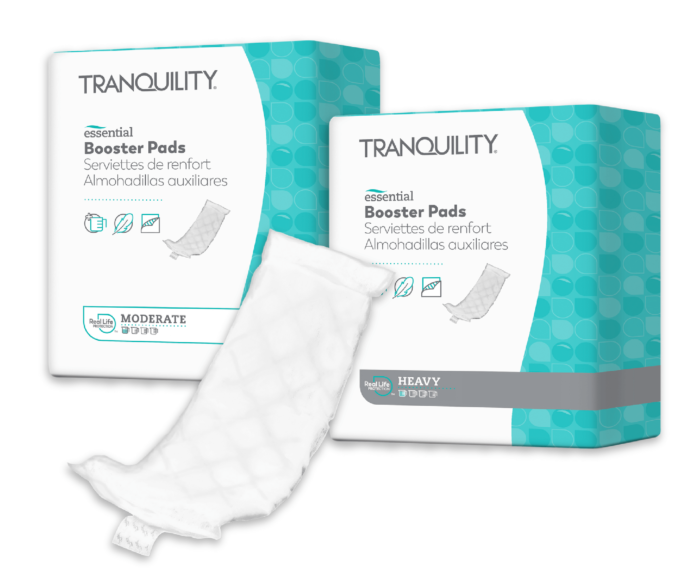 Like all Tranquility Essential products, these booster pads offer reliable protection and may be a good option for Medicaid beneficiaries.
Contact Us
If you have any questions about finding the best incontinence pads through Tranquility, please feel free to contact us today.
Ask how to request a free sample so you can experience the Tranquility difference for yourself, before you order!
Call: 1-866-865-6101, Monday-Friday 8 a.m. to 5 p.m. ET
Email: CustomerService@pbenet.com, anytime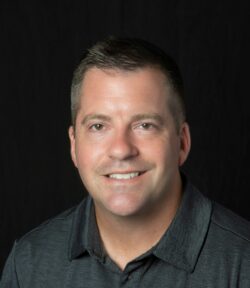 Robert Recker
Robert is a Senior Manager of Content Marketing for Principle Business Enterprises, parent company of Tranquility Brand Continence Care Products. He has 15 years of experience creating online educational content in the healthcare industry, specializing in medical supplies.
For more information or questions about this article, please call 1-419-352-1551 or email CustomerService@pbenet.com.